Posted June 1, 2021
B&D Industrial to help build Habitat for Humanity home
Industrial distributor B&D Industrial is participating in a project to build a home for Macon Area Habitat for Humanity.
---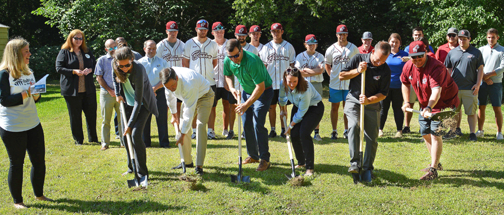 A partnership between Macon, Georgia-based B&D Industrial, Macon Bacon, a collegiate summer baseball team, and Macon Area Habitat for Humanity was kicked off during a groundbreaking ceremony on Tuesday, June 1.
In an effort to empower the community with affordable housing, these businesses have come alongside the mission of Habitat for Humanity to contribute toward building a home in the Lynmore Estates neighborhood. On Tuesday, June 1, representatives from each of the three organizations joined together to break ground and bless the foundation of the new home.
"My cousins and I have been searching for a non-profit to get B&D involved in for the last couple of years," said Lauren Lanter, co-CEO of B&D Industrial. "While we have several philanthropic activities we support, we wanted to find an organization that our employees would be able to rally behind whether they were in the Macon facilities or our furthest site in Tacoma, Washington. I love that Habitat allows for us to give financially, but more importantly, it allows us and our team to volunteer our time. We are very excited to start here in Macon at the Lynmore Estates neighborhood and look forward to seeing our partnership grow in the future."
Ivey Hall, executive director of Macon Area Habitat for Humanity, said the partnership with B&D Industrial and the Macon Bacon will help fund the construction of a home but will also be a special way to bring volunteers back to Habitat job sites this summer.
"We are so grateful for this support, and we cannot wait to see smiling faces and swinging hammers on the job site as we continue our 35-year tradition of offering low-income homeownership opportunities in Macon-Bibb County," she said.
Macon Bacon players and staff from both B&D and the Macon Bacon will help build the home. The three-bedroom, two-bathroom home follows the same plans as most Habitat for Humanity homes and will be one of 10 new construction projects the affiliate is planning over the next 12 months. Construction is expected to be over the summer and into the fall.