Posted June 5, 2023
Cooper Electric to acquire Billows Electric Supply
Sonepar announced its U.S. subsidiary, Cooper Electric, has entered into an agreement to acquire Billows Electric Supply.
---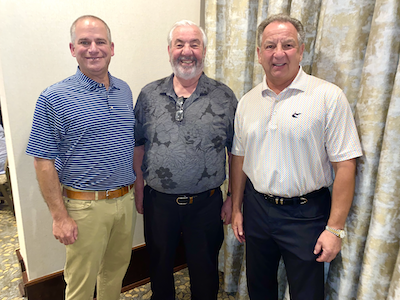 Left to right: David Cooper, president, Cooper Electric; Jeff Billow, owner & CEO, Billows Electric Supply; Alan Rosenfeld, East region president, Sonepar USA
A family-owned business since 1950, Billows Electric offers a full line of electrical products and services to its customers. Operating in the Philadelphia, South Jersey and Wilmington metropolitan market, Billows Electric joins Sonepar with 19 branch locations and over 285 associates.
"The addition of Billows Electric Supply will increase our coverage and density within those important markets in which it operates and provide us with a strong platform for growth," said Rob Taylor, president of Sonepar North America. "This combination is especially exciting as Billows will be able to leverage Sonepar's investment in Cooper Electric's state-of-the-art automated distribution center in providing best in class services for our customers throughout Billows' market."
David Cooper, president of Cooper Electric, said, "Billows has an outstanding reputation in the marketplace, and we're thrilled their experienced associates will be joining our network."
Jeff Billow, current owner, and CEO of Billows Electric, added, "As a 73-year old, family-owned business, it was very important that we chose a partner that appreciates and supports what we've built and can enhance opportunities for the growth of our business and associates. We had many choices in this process, and Sonepar thoroughly impressed us with their capabilities and resources.
"We want to thank our talented staff who drove our success with their expertise, innovation, and entrepreneurial spirit as well as our dedicated customers and manufacturers who remained true partners throughout the decades."
The acquisition is scheduled to close in June.