Osborn new product catalog
Osborn, a supplier of industrial brushes, polishing compounds and buffs, introduced its new product catalog.
---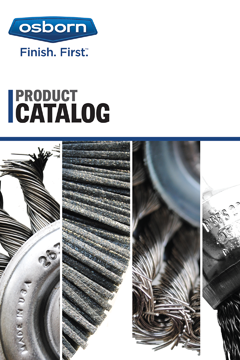 In addition to a clean, crisp and updated design, the new Osborn product catalog includes features such as tips for selecting the right products, application guides and other helpful information. The easy-to-use catalog includes instructions on how to find specific products by categories, which include: type of brush, brush description, fill material, trim materials, product specifications, part numbers and more.
"We wanted our new catalog to highlight what makes Osborn the total solution provider for surface finishing," said Spencer Maheu, director of marketing and product management at Osborn. "Product selection guidance is featured throughout the catalog, making it possible to quickly and confidently select the right products for the job."
Because a catalog is a dynamic resource, Osborn took it to the next level by opening a dedicated channel of communication for all customers. Any comments, questions or concerns regarding the catalog can be sent to catalog@osborn.com.