Posted June 30, 2022
Valley Grinding acquires Quality Edge
Valley Grinding & Manufacturing Inc., a nationwide blade grinding and manufacturing company headquartered in Little Chute, Wisconsin, has acquired Quality Edge Inc.
---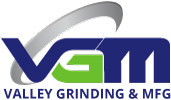 Quality Edge is a provider of industrial knives and slitter sharpening services.
The strategic purchase, which provides a 30 percent growth, makes Valley Grinding & Manufacturing the largest knife and blade supplier in the state of Wisconsin and places the company among the top 10 largest suppliers in North America. The company expands its reach as a knife manufacturer and distributor of high-end American-made knives to its 1,500 customers.
"I'm extremely proud of our existing and new employees because of their craftsmanship and what we will accomplish together," said TJ Utschig, Valley Grinding & Manufacturing President..
Future plans for Valley Grinding & Manufacturing include additional acquisitions in its aim to double in size.
"We're growing, evolving and applying new technologies to a traditional business which helps us in the acquisition space. Having multiple locations in the U.S. gives us better footing for acquisitions and allows us to serve our markets at a high level," said Utschig.