Posted July 2, 2019
Applied releases latest catalog
Applied Industrial Technologies announced the release of its new industrial products catalog for 2019/2020.
---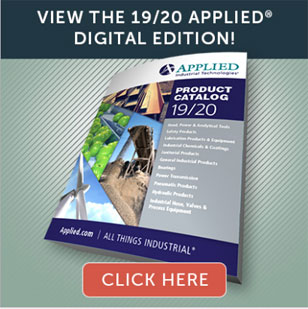 It features the company's most popular products for all types of maintenance and repair operations, organized to help maintenance and production managers save time and money when searching for replacement parts and supplies.
"The Applied Product Catalog continues to be a valuable go-to resource for our customers," said Jason Vasquez, vice president of sales and marketing. "We have selected more than 31,000 of our best-selling products with proven name-brand quality. We also include 48 pages of helpful technical resources, including formulas, conversion tables, fluid power troubleshooting guides, and other MRO tips and information."
Environmentally-conscious customers can reference the Green Glossary for eco-friendly information and locate "green" products throughout the catalog.