Posted July 4, 2023
Sonepar signs partnership with U.S. Army PaYS program
Sonepar has signed an agreement as part of the United States Army Partnership for Your Success (PaYS) program.
---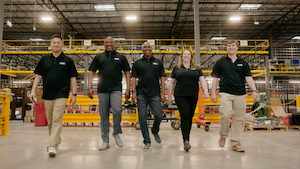 Sonepar associates who belong to the
MERGE military employee resource group
"We recognize the valuable skills and experience that our veterans bring to the workforce," said Rob Taylor, president of Sonepar North America. "We are proud to partner with the PaYS program and commit to employing more soldiers who have served our country. As a leading electrical distributor in the U.S., we have a wide range of career opportunities for veterans."
The PaYS Program is a strategic partnership between the U.S. Army and companies to provide veterans with employment opportunities after their service in the Army. Designed to help soldiers prepare for a civilian career, the program connects soldiers with employers who understand the skills, discipline, and work ethic that military service members bring to a business. This program is part of a long-term U.S. Army effort to help service members forge professional relationships with businesses and encourage businesses to look to the Army as a strategic talent pool.
"We hire members of the military community because it is the right thing to do, and they make great associates," said Chris Miles, military and veteran relations manager for Sonepar. "We even have a strong military employee resource group at Sonepar. There are over 190 job specialties in the U.S. Army, where military personnel gain experience in fields ranging from IT and engineering to human resources, finance, logistics and more. Bottom line: hiring members of the military community is good for business, and we are honored to partner with PaYS."
Sonepar has formed more than 25 military partnerships to date with organizations like P3 Private Public Partnership with the U.S. Army Reserves, Work for Warriors with the U.S. National Guard, and Hiring Our Heroes with the U.S. Chamber of Commerce Foundation. Sonepar has sent company representatives to over 140 veteran recruiting events in the last 15 months, resulting in a significant uptick in military hires.