Posted July 5, 2023
Emerson, Australia start-up collaborate on hydrogen solutions
Global technology and software company Emerson has announced Cavendish Renewable Technology (CRT), an Australia-based startup with proprietary hydrogen technologies, will work with Emerson's automation and software portfolio to accelerate the deployment of CRT's hydrogen production solutions.
---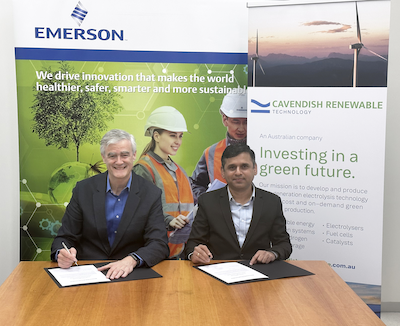 Emerson Senior Vice President and Chief Sustainability Officer Mike Train (left) signs an agreement with Cavendish Renewable Technology
Chief Executive Officer Ani Kulkarni, Ph.D.,
to leverage Emerson's automation technologies to help
improve efficiency, safety, emissions and faster time-to-market for hydrogen-based solutions.
As the world continues to seek sustainable energy alternatives, hydrogen has emerged as a promising carrier of cleaner energy. With its immense potential to help reduce greenhouse gas emissions, hydrogen technologies have become a key focus for researchers, industries and governments worldwide.
"It's going to be a golden era for hydrogen over the next decade," said Ani Kulkarni, Ph.D., CRT's chief executive officer. "Working with Emerson will enable us to optimize and scale our operations, which will help accelerate the global adoption of hydrogen technologies to meet energy targets and reduce global emissions."
Under the agreement, Emerson will leverage its extensive automation expertise and portfolio, including software, control systems, instrumentation, valves and safety solutions, for CRT's hydrogen electrolysers and ammonia processing equipment.
"Emerson's hydrogen experience and automation technology will help CRT digitalize its operations for improved safety and reliability while also accelerating the delivery of its hydrogen-based products and solutions," said Mike Train, Emerson's senior vice president and chief sustainability officer.
"Our value proposition is two-fold," said Kulkarni. "Our proprietary electrolyser technology will enable production of green hydrogen at scale which we aim will be cost competitive to fossil fuels, and our ammonia solution can convert ammonia directly into electricity, a one-step process that uses far less energy than converting ammonia back into hydrogen before electricity is produced."