Posted July 7, 2023
Emerson opens registration for Exchange Immerse event
Global technology and software provider Emerson will bring together customers, experts, and automation industry leaders for a three-day, process automation experience as part of the first Emerson Exchange Immerse. The conference will be held October 3-5, 2023, at the Anaheim Convention Center in Anaheim, California.
---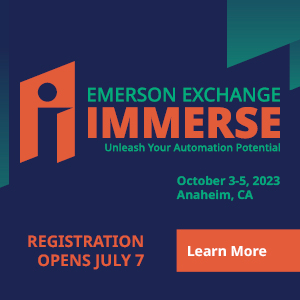 As an extension of the comprehensive Emerson Exchange events held globally, Emerson Exchange Immerse will enable users to more directly focus on process automation systems, solutions, and software including technologies from DeltaV, Ovation, AMS, Guardian, and AspenTech. Registration is now open for Emerson customers. Early bird registration ends August 31, 2023.
Emerson Exchange Immerse attendees will engage with their peers, broaden their knowledge base and gain valuable insight from industry leaders. Users will learn the latest technology advancements, implementation successes and proven project solutions being used throughout process automation. Topics will span a wide range of industries including energy, life sciences, chemical, refining, food and beverage, power generation, renewables, hydrogen, biomass, water and mining industries.
"One of the best ways our users, and even our own Emerson experts, learn about new process automation strategies and technologies is from hearing each other's stories," said Nathan Pettus, president of Emerson's process systems and solutions business. "At Emerson Exchange Immerse, attendees will not only hear those stories in user presentations but will be able to dig deeper with our hands-on technology exhibits and in our many networking events."
Emerson Exchange Immerse will feature over 200 sessions – more than half of which will be presented by users – as well as technology exhibits and educational courses. In addition, forums led by industry experts and Emerson executives will explore how advanced automation software from Emerson is helping companies make measurable progress toward operational excellence and sustainability goals.