Posted July 14, 2023
Generac harnesses power of music for a good cause
Representatives from Generac Power Systems presented the American Red Cross of Wisconsin with funds to purchase a new ProMaster 3500 blood services vehicle during a visit to the organization's downtown Milwaukee office on July 12.
---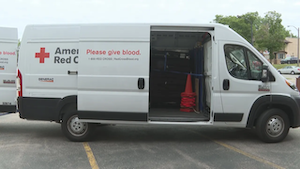 The manufacturer donated the proceeds, $55,000, from its Power Up with a Purpose charitable initiative, a new and unique part of the 2023 Summerfest lineup.
For the first time ever, music fans could purchase Power Up with a Purpose access passes for each of the nine headlining acts and enjoy their favorite artists with front row access to the Generac Power Stage at Summerfest. Power Up with a Purpose access passes were $100 each, per night, per person and included admission to Summerfest the day of the performance. The $55,000 raised from sales of the Power Up with a Purpose access passes were dedicated to the purchase of a blood services vehicle.
The ProMaster 3500 is a cargo van that plays a critical role in blood collection and distribution. The vehicles transport staff and specialized equipment, such as donor beds, phlebotomist materials and blood donation supplies, to blood drives. They then transport the blood that was collected at blood drives to hospitals and processing centers.
"These vehicles are constantly on the go and they're critical to our ability to collect, test and deliver lifesaving blood products every day throughout our communities," said Mark Thomas, CEO and regional executive for the Red Cross of Wisconsin. "Thanks to this generous gift from Generac, we've been able to add another new vehicle to our fleet which will help us ensure that our volunteers can collect and deliver blood products to patients in need."
Tami Garrison, senior director social responsibility at Generac, said, "At Generac, we work closely with local organizations to make an impact and uplift the communities where our employees live and work. "We consider it an honor to work with non-profits like the Red Cross to cultivate a healthier community and are thrilled to donate the proceeds from our Power Up with a Purpose initiative for a new blood services vehicle."
The new blood services vehicle bearing the Generac logo, will help serve the blood supply needs of the Milwaukee community for years to come while also helping the Red Cross fulfill its mission to prevent and alleviate suffering.