Posted July 14, 2023
Hy-Brid Lifts announces regional director of sales
Hy-Brid Lifts, a manufacturer of aerial lift equipment, has appointed John Davis as director of sales covering the South-Central region. Davis' responsibilities will include providing customer support as well as continuing the growth and channel development of the Hy-Brid Lifts line of low-level scissor lifts.
---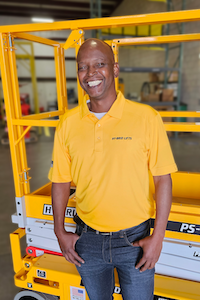 "I am truly elated to become the latest member of the sales team here at Hy-Brid Lifts. I have felt nothing but love and appreciation from everyone I've encountered thus far, and I can clearly see why this company is thriving and growing so successfully," said Davis. "I look forward to bringing my positive attitude and determination to help Hy-Brid Lifts grow in the south-central districts of the U.S."
Davis brings 11 years of industry experience to his new role, largely derived from his time at Asco Equipment where he spent two years as the A/P specialist, five years as the parts manager and one year as the rental coordinator. He spent the last three years at Texas State Rentals as the territory sales manager for south Houston.
"We are thrilled to have John join the Hy-Brid Lifts team. He will work directly with our dealer network in the south-central United States, strengthening our ability to serve our customers," said Dave Wanta, Custom Equipment LLC vice president of sales. "John brings a wealth of sales and rental industry knowledge along with operational experience that will bring great value to our customers. John is a valuable addition to the team, and we look forward to the contributions that he will provide for our company's continued growth."