Posted July 17, 2020
Pandemic Revenue Index falls back into negative territory
Indian River Consulting Group's (IRCG) weekly Pandemic Revenue Index for the work week of June 6-10, 2020, indicated a 7.4 percent decrease compared with the same week a year ago.
---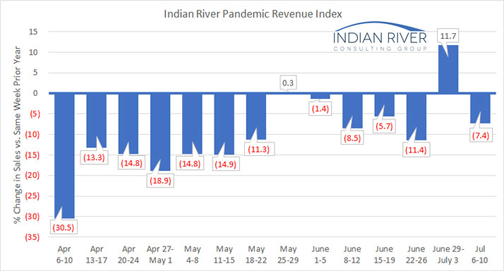 IRCG's distributor Pandemic Revenue Index gives distributors a weekly quantified view into how other distributors in the industry are faring as the global COVID-19 pandemic progresses.
"We saw a return to values seen in June after last week's holiday-driven anomaly increase," said Mike Emerson, IRCG Partner. "Last week aside, there appeared to be some stabilizing both of the index and of its component companies. The index seems to be settling into declines in the mid-single digits."
Find free resources for distributors on responding to the pandemic, including a cash flow modeling spreadsheet and instructional webinar, and a cost-reduction planning webinar, at IRCG's website: ircg.com/stress-testing.