Posted July 27, 2023
Emerson receives Bosch Global Supplier Award
Global technology and software company Emerson received the 2023 Bosch Global Supplier Award, placing the company among a select global group of Bosch's most valued suppliers helping drive innovation in pursuit of sustainability targets and their commitment to climate neutrality.
---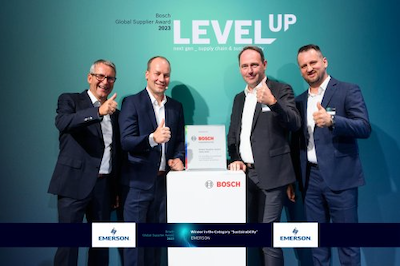 Emerson accepts the 2023 Bosch Global Supplier Awardfor Sustainability in Dresden, Germany, placing thecompany among Bosch's leading global technology partners. Left to right: Bosch Executive President Global Business Services Joerg Mimmel; Bosch Senior Vice President, Supply Chain Management Dr. Arne Flemming; Emerson Director Business Development, Discrete Automation Group Andre Jungbauer; and Emerson's Global Key Account Manager, Discrete Automation Group Robert Brezni.
Emerson earned the Global Supplier Award for Sustainability, recognizing the company's exemplary commitment to climate neutrality and comprehensive efforts to reduce greenhouse gas (GHG) emissions.
"Sustainable supply chains strengthen global prosperity and benefit society," said Dr. Arne Flemming, Bosch's head of supply chain management. "We especially honor our suppliers' commitment to climate action with an award in the special 'Sustainability' category."
Emerson is a longtime automation partner to Bosch. Emerson's global factory automation solutions portfolio helps companies meet their carbon neutral milestones. Emerson recently announced it has achieved a 42% reduction in greenhouse gas emissions intensity from the 2018 baseline, surpassing its original 20% target six years ahead of schedule. Emerson has an A- score from the Carbon Disclosure Project and prioritizes advancing solutions that impact the environment: 70% of its revenue* is tied to sustainability-enabling technologies for customers.
"Emerson is deeply honored to receive the 2023 Bosch Global Supplier Award in the Sustainability category," said Emerson Chief Sustainability Officer Mike Train. "Our efforts are having a measurable impact as we partner with customers to make the world healthier, safer, smarter and more sustainable. We will continue to take actions that tackle emissions across our global operations while supporting our customers in their decarbonization efforts and the broader communities we serve."
Since 1987, Bosch has presented these awards every two years to its top suppliers in categories covering sustainability, purchasing of indirect materials and services, and raw materials and components. From its approximately 35,000 global suppliers, Bosch recognized Emerson and 45 other suppliers from 11 countries for the Global Supplier Awards on July 14, 2023, at the International Congress Center in Dresden, Germany.