Posted July 28, 2020
Schron earns ISA Lifetime Achievement Award
Jack Schron, president and CEO of Jergens Inc. in Cleveland, Ohio, was named winner of the 2020 ISA John J. Buckley Lifetime Achievement Award.
---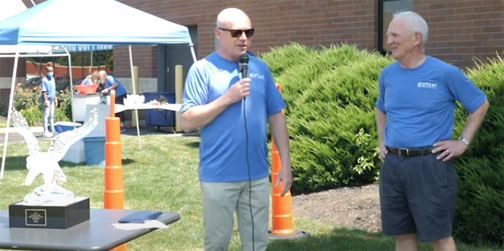 Normally announced at the annual ISA convention, this year's award ceremony took place at the annual summer picnic for Jergens. ISA president and CEO Ed Gerber travelled to Ohio for a surprise visit to present Schron with the award in front of his employees and family. Click the link to view a video on The Channel, ISA's video communications tool.
Schron has been an active member of ISA for decades, serving on various committees and the board of directors. He served as the association's president in 2011-2012.
Kudos to ISA and Gerber for keeping the award a secret from Schron, who appeared genuinely surprised when he realized it was Gerber behind the mask, sunglasses and baseball cap.