Posted August 10, 2023
Sonepar creates new role: VP of solar and e-mobility
Sonepar has appointed Kelly Berg to vice president of solar and e-mobility, Sonepar USA, responsible for developing and leading the organization's solar and e-mobility vision and strategy.
---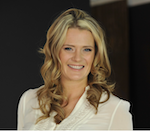 "To succeed in selling solar and e-mobility (EV charging) products in a constantly evolving environment, we have appointed a national leader with specific knowledge and expertise to help unify our business plan" said Rob Taylor, president of Sonepar North America. "We have a goal of doubling our solar and EV charging sales by 2027 and will create an infrastructure to achieve our aspiration."
In addition to her focus on strategy, Berg will help build a specialized team with enhanced competencies to support growth of these segments. She will also represent Sonepar in the manufacturing community and work to expand the company's financing solutions.
Most recently working as director of sales, distribution, for Generac Power Systems, Berg educated distribution partner sales organizations, drove installer engagement, and developed incentive programs. Prior to Generac, Berg held senior positions at Neurio Technology and Samlex America.
"We are committing talent and resources to this growth initiative and look forward to Kelly helping us augment and accelerate the current efforts of our OpCos," said Taylor.