Posted August 14, 2023
Viega names new CFO
Viega, a provider of press technology, has appointmented Sarah Simpson as chief financial officer.
---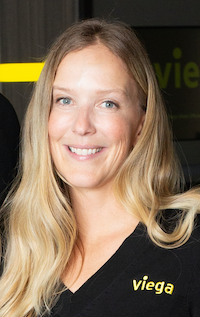 She joins the Viega executive team with experience in complex, global business, having worked previously at Baker Hughes, General Electric, and most recently as CFO of Nexus Controls.
"Sarah brings with her extensive experience managing large capital budgets, implementing financial systems, and developing a global team across several countries," Markus Brettschneider, president and CEO of Viega LLC. "As Viega continues to grow and expand, particularly in North America, Sarah will be instrumental in helping us reach our goals and achieve success," said "I am excited to join Viega at a time when the company is experiencing so much growth. Press technology is the future of this industry. The company's commitment to quality products, safety, talented teams, and respected core values are why I am excited to be a part of the Viega team!"
Simpson will report directly to Brettschneider.