Posted August 16, 2019
Superior Abrasives makes personnel moves
Superior Abrasives announced several new appointments in sales and service-related positions.
---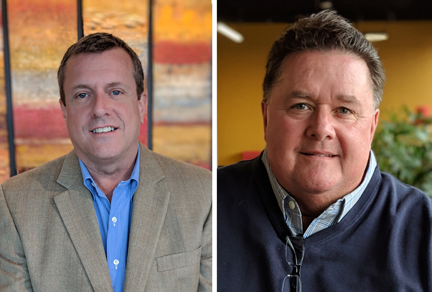 Tom Licata (left) and Richard Pepera
The manufacturer of abrasive tools for surface finishing applications also divided its national sales management team into Eastern and Western regions.
Tom Licata, formerly national and key accounts manager, was named Western national sales manager, managing Central and Western regions, including Missouri and Southern Illinois, while also focusing on national-based partnerships. The Western national territory includes Central regional manager Michael Wyatt, and West regional manager Edison Oliveros, both with several years' experience in industrial distribution and abrasives-specific sales management. Wyatt and Oliveros work with distributor-partners and industrial manufacturer representatives.
Richard Pepera was named Eastern national sales manager, overseeing regional and direct territory representatives east of the Mississippi. The Eastern national territory includes Scott Hopkins, regional sales manager, Chad Schmelzer, Ohio and West Virginia, and Greg Kimpton, Michigan.
Transitioning from his role as regional sales manager, Patrick Mathes has accepted the program manager position and will focus on client partnerships, e-commerce and customized buying programs for national partners.
Yaunce Long has been appointed applications engineer, focusing on support and on-site evaluation of consumer process improvements, applications training, research and development, and quality assessment.