Posted August 16, 2023
JAX Inc. hosts headquarters grand opening
JAX Inc., a manufacturer of industrial and food grade lubricants, celebrated the grand opening of its new headquarters located in Menomonee Falls on August 15.
---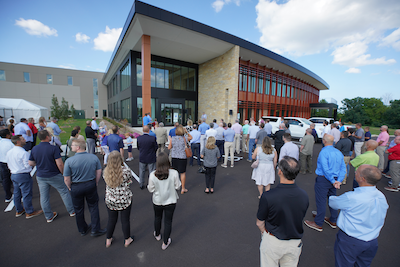 The new headquarters will operate in conjunction with the company's existing facility, which will continue to serve as a center for production and research and development activities. This strategic approach ensures that JAX maintains its high standards of quality, while also positioning the company for future growth and technological advancements.
The grand opening of the new headquarters signifies JAX's dedication to fostering economic development, creating job opportunities, and contributing to the overall prosperity of the region.
"We are excited to invest in the future of our employees, customers, and community," said Kyle Peter, president of JAX. "Our new headquarters represents our unwavering commitment to meeting the future demands of our valued customers, while providing our talented team with an optimal environment for collaboration, research, and development."
The groundbreaking for the cutting-edge facility took place on May 19, 2022, as JAX embarked on an ambitious expansion plan to meet the evolving needs of its industry. The new headquarters encompasses120,000 square feet of spaces for office operations, production facilities, and efficient distribution operations.
The grand opening brought together esteemed guests, including local officials, industry leaders, business partners, and JAX employees, who have played a pivotal role in the company's success. Attendees had the opportunity to tour the facility and engage with JAX's knowledgeable staff.