Posted August 10, 2023
Mi-T-M VP retires
The Mi-T-M Corp. announced its long-time vice president, Dana Schrack, has retired as of August 4. He was with the company for 33 years, 20 as vice president.
---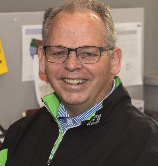 Schrack has been instrumental in the growth at Mi-T-M, and has played a key role in guiding the company through sales, marketing and product development. Schrack has helped to develop strong relationships in the rental, paint, dealer, equipment and private label segments.
"It has been a great 33-year career at Mi-T-M, and my success is due to the talented colleagues that have surrounded me. I can only hope that I am leaving the company and my coworkers with a lasting impression of my dedication," said Schrack.
Mi-T-M Corporation is an employee owned manufacturer of industrial equipment located in Peosta, Iowa.