Posted August 22, 2019
Kimball Midwest climbs higher on Selling Power list
Kimball Midwest, a national industrial supplier based in Columbus, Ohio, continues to climb on a prestigious annual list produced by Selling Power magazine.
---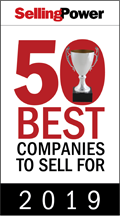 Kimball Midwest is No. 28 on Selling Power's 2019 ranking of the "50 Best Companies to Sell For," which was released earlier this month. That's up from No. 29 in 2018 and No. 32 in 2017, when the company made its first appearance.
"We would like to thank Selling Power for their recognition of our people, programs and results. We are excited to be included in their rankings," said Patrick McCurdy III, the company's vice president of sales. "We're working hard every day to attract and develop an industry-leading sales force and are proud of our team's ability to deliver the Kimball Midwest experience to our customers across the country."
Each year, the corporate research team at Selling Power assembles and publishes its list of the 50 Best Companies to Sell For. To gather data, the Selling Power research team issues a comprehensive application with detailed sections covering three broader categories: Compensation and benefits; hiring, sales training and sales enablement; and customer retention.
The list encompasses companies of all sizes, with sales forces ranging from fewer than 100 salespeople to companies with sales forces numbering in the thousands.