Posted August 22, 2022
PT WORK Force offers assessment tool
Finding employees in today's labor market isn't getting any easier. With quit and retirement rates near all-time highs, demand for qualified employees is outpacing labor supply. Two added resources from the PTDA Foundation's PT WORK Force initiative can equip employers with essential tools to attract and retain top talent.
---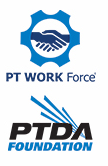 Too often, an interview doesn't adequately convey a skills gap or reveal undesirable work behaviors. Candidates are savvier about how to "ace" an interview. Having data to confirm a job candidate possesses the required cognitive and behavioral traits can help employers avoid time and energy consumed by a wrong hire. PT WORK Force has sanctioned Profiles International, a subsidiary of Wiley, to offer PT/MC companies its PXT Select™—a proprietary, comprehensive, "full person" assessment tool.
The PXT Select can improve employee placement, satisfaction, performance and retention, giving your company objective data to assess the best fit people from the start. The tool measures how well an individual fits specific jobs in an organization by assessing their cognitive ability, behavioral traits, and interests.
"We have used the PXT Select assessment tool for over 20 years," said John Masek, senior vice president, Bearing Service Inc. "Having assessed over 150 candidates using this tool, I can speak confidently that it has improved the quality of our hires, reduced employee turnover due to a poor match between the candidate and their job and led to hiring better candidates who have made a long-term impact to our organization."
PT WORK Force has negotiated a discounted rate of $130 per PXT Select assessment (a $295 value) for PT/MC companies. Details can be found at ptda.org/Foundation/SkillsAssessment.
Compensation remains king. People seeking employment have options, and a viable salary can help entice them. Data in the 2022 Cross-Industry Compensation & Benefits Survey reveals PT/MC companies may be falling short of compensating their employees at levels comparable to competitors. Now more than ever, employers must regularly evaluate their compensation and benefits packages to make their offerings competitive and retain employees.
The 2022 Cross-Industry Compensation & Benefits Survey helps employers see where their benefit practices align with competitors. In addition to data on recruiting and retention, health care costs/trends, retirement benefits, vacations/PTO and holidays, sick and other leave and sales practices, the report contains compensation-related statistics for common job titles in the industry including executive level positions, general & administrative, sales & marketing, operations/warehouse and information technology.
An immediate download of the report with survey findings is now available for purchase for US$1,995 (US$5,000 value). Learn more at ptda.org/Foundation/CompensationSurvey.