Posted August 24, 2023
FPT Industrial names distributor for Puerto Rico, Caribbean
FPT Industrial has announced a new partnership with RK Power in Puerto Rico as a distributor of engines for power generation, construction, and industrial applications throughout Puerto Rico and the Caribbean.
---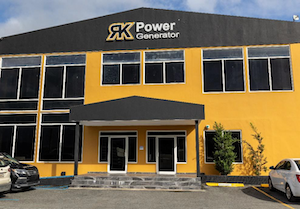 "FPT Industrial is pleased to welcome RK Power to our industrial distribution network in North America," said Braden Cammauf, vice president FPT Industrial North America. "RK Power brings over 17 years of experience in manufacturing generators powered by diesel engines. Their leadership team and employees demonstrate an outstanding commitment to high-quality products and customer service that stands out among competitors. We look forward to growing our business and empowering the region of Puerto Rico and the entire Caribbean together."
RK Power provides energy solutions throughout the entire American continent. Among these solutions, the company specializes in the design, manufacturing, and commercialization of electric generators and automatic transfers for residential, commercial, and industrial use in Puerto Rico, the Caribbean, and America.
Additionally, RK Power offers emergency electric supply services. Headquartered in San Juan, Puerto Rico, and founded in 2005, it is the only generator manufacturer in the Caribbean with two plants located in San Juan, Puerto Rico, and San Pedro De Macorís, Dominican Republic. FPY Industrial stated that for these reasons and more, RK Power is an excellent partner with which to collaborate, as the brand strives to exceed its customers' expectations by applying cutting-edge technology to meet specific energy requirements.
"We are delighted and committed to having RK Power become part of the FPT Industrial family," said Mónica Ponce, corporate marketing director of RK Power. "With FPT Industrial's complete line of industrial engines and our expertise in generator manufacturing, we see great growth potential in the markets we operate."
Amós Leiva, business developer, added: "It is a significant investment we have made, as RK Power's policy has always been to establish long-term relationships with its strategic suppliers. From today onwards, we have FPT Industrial on board to develop many mutually beneficial businesses, allowing both of us to grow together, knowing that they will provide us with the best support and everything we need to make history together."
FPT Industrial manufactures over 600,000 engines globally each year.