Posted July 29, 2020
Waypoint Robotics and AHS announce integrator partnership
Waypoint Robotics and Advanced Handling Systems (AHS) announced a new systems integrator partnership.
---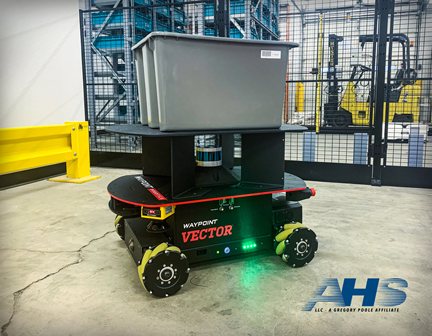 As a select Waypoint Certified Systems Integrator, AHS will be able to offer Waypoint's full fleet of industrial-strength, omnidirectional AMRs to its customer base as part of a fully integrated automated material handling solution.
AHS provides fulfillment and distribution solutions for a wide variety of industries and clients. Waypoint Robotics develops and manufactures fully autonomous mobile robot platforms that are easy to use, industrial-strength, and designed to be setup and used by the workforce that is on the job today.
Adding Waypoint's industrial-strength, omnidirectional AMRs with mapping and navigation capabilities to its line means AHS can offer AMR technology that seamlessly integrates into the systems they create for customers. Waypoint AMRs enable workers to delegate dull or arduous work to the robots so they can spend more time doing the interesting and valuable aspects of their job for which they are uniquely qualified.
"Waypoint is a domestic robotics company with the highest integrity, innovation, and quality we have found to date. Waypoint's technology allows us to provide scalable and stable solutions backed by tremendous character and customer service," said Dave Tavel, executive vice president of AHS.
"AHS is a world-class systems integrator with an exceptional team and we are excited to partner with them. We think our AMRs will be a great addition to their line of innovative offerings and look forward to a longstanding, fruitful partnership," said Jason Walker, CEO and co-founder of Waypoint Robotics.
Waypoint AMRs and accessories will be available for purchase immediately through AHS.