Posted September 5, 2023
'We Supply America' Season 3 films premiere Sept. 6
The We Supply America tour hit the road again this summer, championing the noble calling of distribution and gathering stories of innovation, inspiration and leadership from distributors across the country. Those stories will be told starting Sept. 6 at WeSupplyAmerica.net.
---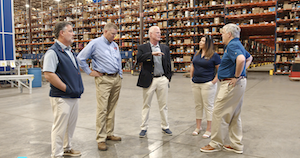 Dirk Beveridge (right) with APR Supply's executive team
"For three summers, I have visited dozens of distributors, championing the noble calling of distribution and hearing the stories of distributors who demonstrate what it means to be a Force for Good," said Dirk Beveridge, executive producer at We Supply America. "We're honored to highlight companies in this year's docuseries that emulate what it means to be a Force for Good. We're on a mission to celebrate the independent businesses bettering communities with meaningful jobs and stability."
The We Supply America movement documents the human stories of distribution leaders and their people – the leaders and frontline employees that define the innovative spirit and purpose-driven culture that supplies America.
Meet the Companies That Are a Force for Good
Starting on Sept. 6, Beveridge is releasing the first of the docuseries' eight parts, telling the stories he discovered on the We Supply America: Season 3 tour that highlight meaningful examples of both new and veteran distribution leaders making a real impact on their society, partners, investors, customers and employees (SPICE).
The first episode of We Supply America: Season 3 features APR Supply, a full-service distributor of HVAC, plumbing and hydronics based in Pennsylvania. "With 101 years under its belt, this fourth-generation distributor's trajectory is awe-inspiring," Beveridge said. "Doubling in size every five years, they've remained a beacon of unwavering, results-driven leadership."
Join Beveridge for the premiere of APR Supply's story on Sept. 6 at 2:30 p.m. CT. Sign up for this LinkedIn Live, which will feature a discussion with APR executives and bonus footage at https://www.linkedin.com/events/apr-acenturyofexcellenceinsuppl7102728839079809024/.
Each docuseries episode reflects a leader like APR Supply that is doubling down on their family cultures to become purpose-driven employers, courageously investing in the growth and development of their people and futures. "They are making a difference for their employees, customers and communities," Beveridge said.
The schedule for this season's film releases is:
APR Supply – Sept. 6
Midwest Wheel – Sept. 14
Palmer Johnson – Sept. 21
IBT – Sept. 28
Nelson Jameson – Oct. 5
COE – Oct. 12
Graphic Solutions Group – Oct. 19
Texas Plumbing – Oct. 26
All films will premiere live each week with Beveridge on LinkedIn and then will be available on the We Supply America website.
Infor, Infor Distribution, and Wipfli partnered with We Supply America to support the production of these stories and champion the noble calling of distribution.
Mark your calendars and join Beveridge as he travels the country meeting the men and women driving the distribution industry and America forward. Watch episodes here.