Posted September 10, 2020
Pandemic Revenue Index climbs 29.2 percent
Indian River Consulting Group's weekly Pandemic Revenue Index for the work week of Aug. 31-Sept. 4 indicated a 29.2 percent increase compared with the same week a year ago.
---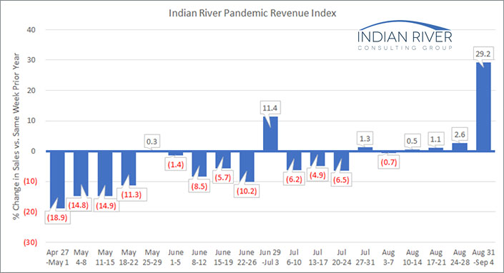 The increase was driven by Labor Day falling during this same week in 2019. Thus, resulting in a five-day week in 2020 vs a four-day week in 2019.
IRCG's distributor Pandemic Revenue Index gives distributors a weekly quantified view into how other distributors in the industry are faring as the global COVID-19 pandemic progresses.
Even with the five days vs. four comparison, one participant saw a sales decrease. The increases ranged from 5 percent to 70 percent, which adjusted for the additional selling day would equate to negative 16 percent and positive 36 percent.
"Considering there were 25 percent more selling days in 2020, a normalized increase would be 3.4 percent. We'll see to what degree the trend occurs in the reverse next week," said Mike Emerson, IRCG Partner.