Posted September 16, 2019
ERIKS North America named top Marathon Petroleum supplier
ERIKS North America was recently recognized as one of the Top Suppliers by Marathon Petroleum Corp (MPC), the largest refining company in North America.
---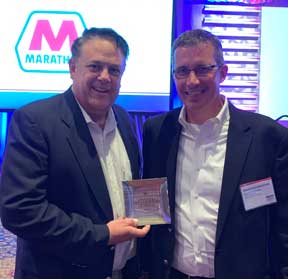 Terry Subia (left) and David Kazmierczak accepted the Marathon Petroleum Corp. Supplier Recognition Award.
A special invitation for outstanding vendor performance was extended to the top 0.5% of MPC's suppliers—representing only the top 80 out of 15,000 companies—at the company's Supplier Recognition Awards 2019. The awards were held at the JW Marriott San Antonio Hill Country Resort & Spa on Sunday, Sept. 8. MPC emphasized that this event was created to recognize their key suppliers; the ones that are depended upon to get the job done under all circumstances.
"It's an honor to be recognized by MPC, one of the leading energy companies in the country," said David Kazmierczak, Key Account Manager for ERIKS North America. "At ERIKS, we are in the business of making industry work better; solving problems before they become emergencies. The ERIKS team brings innovative technology products and industry leading best practices to partner with MPC and develop solutions. We value our relationship with MPC and take great pride in working together."
"MPC operates 16 crude oil refineries across the U.S. and is capable of producing more than three million barrels per day," added Terry Subia, Director of the Gasket Product Business Unit for ERIKS North America. "Our goal is to keep customers' plants running efficiently and cost-effectively. This recognition is a testament to the dedication and experience of the entire ERIKS team to get the job done for MPC under any circumstances, in the safest and most reliable way possible."
From nearly 140 locations across the U.S. and Canada, ERIKS North America offers a wide spectrum of products, including industrial hoses, gaskets, seals, conveyors, valves, loading arms, and related solutions from some of the world's top manufacturers. With decades of experience in the refining industry, ERIKS North America provides value-added services and engineered solutions that are designed to significantly reduce operation downtime and lower the total cost of ownership for customers. Over the past five years, ERIKS North America has provided refinery customers with a total of $10.3 million in documented cost savings.