Posted September 17, 2021
JIS Distribution acquires Erie Tool & Supply Co.
JIS Distribution LLC. has acquired the principal assets of Erie Tool & Supply Co. of Toledo, Ohio.
---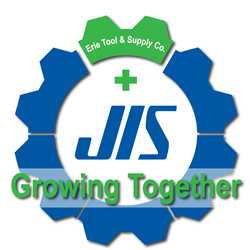 Erie Tool & Supply Co. has served northwest Ohio and southeastern Michigan industrial customers for over 85 years, focused on cutting tools, abrasives, cutting fluids and inventory management systems.
"Erie Tool has been in my family for 65 years and I am pleased that we are selling to another family business whose standards of integrity match our own. I am confident that JIS will expand upon the products and services we offer, while keeping the paramount focus on service to our industry. These commonalities will effect a smooth transition," said Robert Seeman, president of Erie Tool.
JIS will open a new branch in the Toledo area, using the Erie Tool facility, employing local employees, including all of the former Erie Tool staff and stocking products.
"This acquisition allows us to expand geographically and strengthen our relationships with our Northwestern Ohio customers," said Matt Schron, JIS General Manager. "Our JIS Guarantee is to 'keep you running', while being your Partner in Productivity."