Posted September 18, 2020
Pandemic Revenue Index drops back into negative territory
Following four weeks of positive results, the weekly Pandemic Revenue Index moved back in to negative territory.
---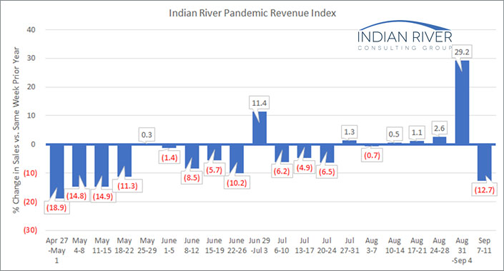 Indian River Consulting Group's Index for the work week of Sept. 7-11 indicated a 12.7 percent decrease compared with the same week a year ago, which was expected since this week's index is comparing four days (due to Labor Day) with five selling days last year (no Labor Day).
IRCG's distributor Pandemic Revenue Index gives distributors a weekly quantified view into how other distributors in the industry are faring as the global COVID-19 pandemic progresses.
"The 12.7 percent decrease reported this week is well short of offsetting last week's 29.2 percent increase. On an average daily sales basis, last week was up 9.1 percent versus last year," said Mike Emerson, IRCG partner.