Posted September 21, 2021
Sandvik Coromant relocates U.S. headquarters
Sandvik Coromant has opened its new Sandvik Coromant Center in Mebane, North Carolina, which will also serve as the metalworking company's new U.S. headquarters.
---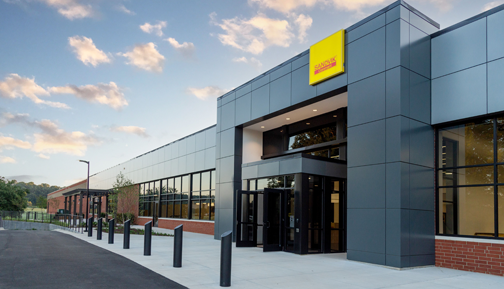 With approximately 170 employees, the updated 167,000 square-foot facility houses an existing production unit, the new tech center and corporate offices, all in one common location.
Mebane is located within a 200-mile radius of all major aerospace and automotive customers, and is easily accessible from three nearby airports. In addition, Mebane is located near the "Research Triangle" in the vicinity of North Carolina State University, Duke University and the University of North Carolina at Chapel Hill.
"Bringing together all company functions in one location will increase internal alignment and cross-functional collaboration. With all departments present in Mebane, we can provide customers and partners with a fully integrated, state-of-the-art immersion into the latest technologies and machining applications," said Sean Holt, president of Sales Area Americas for Sandvik Coromant. "In addition, we anticipate additional synergies between the proximity of our production unit and the activity from our new Sandvik Coromant Center."
The new Sandvik Coromant Center Mebane is a hub for training, R&D testing, customer projects, digital live machining (DLM) capabilities and an opportunity for comprehensive customer and partner engagement with the overall Sandvik Coromant experience.
Sandvik Coromant Center Mebane allows customers and partners to fully interact with the latest technology and digital machining techniques, including Sandvik Coromant's CoroPlus, the tooling platform that brings connectivity to manufacturing. Customers can also work together with Sandvik Coromant experts, including manufacturing specialists, development and process engineers and CAM programmers to develop new ways of overcoming machining challenges.
Complete with a large auditorium, integrated showroom and modern machine tools, the new Sandvik Coromant Center Mebane also features an ITAR aerospace project area. In addition, the DLM system can be used for broadcasting training and machining demonstrations, allowing for collaboration with others around the globe in real time.
Sandvik Coromant was the first company in the cutting tool industry to establish application centers. Currently, there are 17 Sandvik Coromant Centers located across Europe, the Americas and Asia. While each facility has a physical location, they have been built with digital adaptability in mind for virtual training and events.
The interconnectivity of the centers facilitates many opportunities for problem-solving. Sandvik Coromant Centers work together, along with industry partners across the globe, to deliver webinars and digital events that tackle some of the most pertinent manufacturing concerns, such as reducing downtime, best machining practices and selecting the right tool for the job. The new Sandvik Coromant Center Mebane is part of this network.
Other Sandvik Coromant Centers in the U.S. include Schaumburg, Illinois, as well as two Project and Training Sites in Gardena, California, and Brownsburg, Indiana.