Posted September 30, 2021
Investment group buys stake in Summit Hydraulics
North Branch Capital has made an investment in Summit Hydraulics, a Phoenix based distributor of aftermarket hydraulic kits and components for the agricultural and construction end markets, among others.
---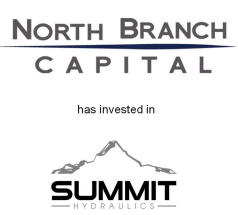 "Summit has built a high growth e-commerce platform selling customized hydraulic components, kits and solutions to industrial markets. The company has emerged as the leading and most trusted brand in this market with a comprehensive product offering, educational sales approach and rapid fulfillment capabilities," said Nick Johansson, Principal of North Branch.
"North Branch's growth-oriented mindset and track record of scaling industrial distribution businesses align perfectly with Summit," said Tony Kotula, founder and president of Summit. "North Branch's expertise in product sourcing, inventory management and logistics will aid in Summit's next phase of growth. We are thrilled about the future and the opportunity ahead of us."
North Branch Capital describes itself as a lower middle market private equity firm, based
in Oak Brook, Illinois.