Posted October 3, 2018
Radians expands garment facility
Radians has completed construction of a new warehouse facility, increasing square footage by almost 50 percent.
---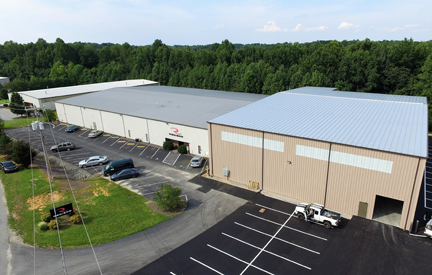 The complex in Thomasville, North Carlina, is currently responsible for manufacturing Radians high-visibility apparel, custom vests and T-shirts, and most of the Radians public safety vests for first responders.
The new warehouse is 14,200 square feet and has 35-foot tall eaves to allow for high storage, expanding pallet storage spaces from 90 pallets to 420 pallets. In addition, Radians is converting 10,000 square feet of original warehouse space to new manufacturing space.
"The new manufacturing space will allow Radians to streamline production and increase efficiency in several key areas including cutting, sewing, screen printing, heat sealing and inspection," said Philip Young, vice president of operations.
Other improvements include new heat and air systems for heating and cooling 30,000 square feet; embroidery capabilities; and the addition of new sewing machines and a new large format heat press.
"Employment opportunities are often a byproduct of expansion," said Young. "We are happy that our employee headcount in North Carolina is up approximately 22 percent in the last 12 months. This is an exciting time for Radians and the Thomasville community."