Posted October 7, 2019
Caldwell Group names business development specialist
The Caldwell Group Inc. has named lifting and spreader beam expert Malcolm Peacock business development specialist.
---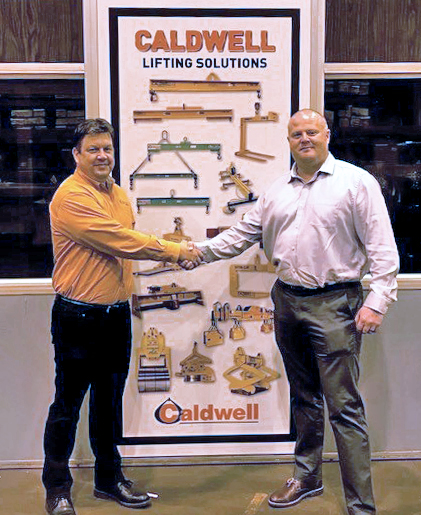 Doug Stitt (left), president and CEO at Caldwell, welcomes Malcolm Peacock, business development specialist
Caldwell is a Rockford, Illinois-based manufacturer of below-the-hook lifting solutions for crane and material handling applications.
Peacock will work from his base in Abu Dhabi, United Arab Emirates, focusing on the oil and gas market in the Middle East, while targeting other global markets.
"Malcolm's appointment allows us to extend our existing plans to leverage our Caldwell and Renfroe intellectual property in lifting applications globally. Over the past 50 years we have developed great business in North America but would like to take that renowned expertise in engineering and product application further afield," said Doug Stitt, Caldwell Group president and CEO.
"I was in a transition period and the Caldwell opportunity met and exceeded the criteria I was looking for in my next challenge. I wanted to remain in the lifting industry and have made a home here in Abu Dhabi. Combined with my existing knowledge of the below-the-hook industry, it's exciting to represent a much broader product range that can help existing and future partners with their varied lifting-related challenges," Peacock said