Posted October 10, 2019
New NAW study: Optimizing Channel Profitability
The NAW Institute for Distribution Excellence announced its newest research study, Optimizing Channel Profitability: A Playbook to Align Manufacturer– Distributor–Customer Relationships.
---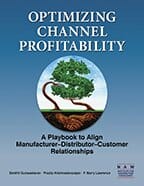 The study is based on a consortium conducted by Texas A&M University's Global Supply Chain Laboratory.
As manufacturers face new competitive challenges, distributors alter their capabilities, and customers change their requirements, the path forward keeps shifting.

Many manufacturers have not updated their channel policies in a decade, while wholesalerdistributors have undergone significant changes in terms of online disruptions by non-traditional competitors, multi-generational workforce dynamics, digital transformation challenges, evolving salesforce structure, and so forth.
Clearly, old assumptions about channel design and management are being challenged. While distributors and their suppliers are busy responding to forces of change from their organizational perspective, are they also looking at the forces of change from their channel perspective? How do distributors align their interests in today's age of disruption and the customer experience– driven economy?
These questions were the driving force behind this groundbreaking research study. The solution does not come from distributors alone or manufacturers alone, but rather from collaborative research. This first-of-its-kind study is based on a consortium made up of multiple distributors (15 distribution firms from six lines of trade) and manufacturers (5 manufacturing firms from four lines of trade) who came together to research and develop solutions. The consortium answered questions both quantitatively and realistically using real-world channel data.
The result is a comprehensive Channel Alignment Framework that presents a menu of creative channel compensation forms that can help distributors and their suppliers develop various channel capabilities that can create value for end customers. The focus is on making a one-toone connection among a supplier's channel compensation, a distributor's capabilities and customer value, all leading to a process where all three entities can have constructive, objective dialogue rather than subjective, selective fault-finding. The framework ends with linking how distributors can capture value from customers and how it is linked to their financial goals.
Please go to www.naw.org/ocp or call 202.872.0885 to learn more and to order copies.