Posted October 19, 2021
Gerber to leave ISA
In an email sent to members of the Industrial Supply Association, current ISA chair Maria Ford of Stanley Black & Decker announced that president/CEO Ed Gerber will be leaving the association.
---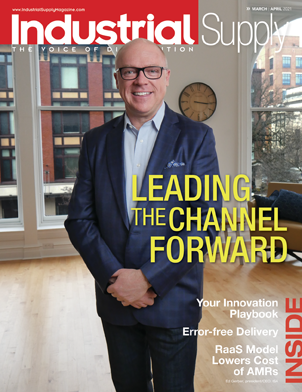 ISA president/CEO Ed Gerber is shown here on the March/April 2021 cover of Industrial Supply magazine
The email said Gerber will leave to "pursue a transformational professional opportunity that in Ed's words, 'will be life-changing for him and his family.'" Gerber told Industrial Supply magazine that he will become CEO of Summit Electric Supply, headquartered in Albuquerque, New Mexico, which operates in 25 U.S. locations and Dubai, UAE.
Gerber has served as president/CEO of the association for five years.
"The Board of Directors of ISA are extremely proud of Ed and the work he and his team has accomplished to date in positioning ISA as a leader within the channel. We sincerely thank Ed and wish him continued success in the future," Ford said.
The ISA board of directors has unanimously moved to elevate Brendan Breen to the role of executive vice president of ISA in an interim capacity. His new role will include working in full collaboration with the board, leading all aspects of the daily operations of the association including the ISA team. He will continue to drive new and active programs fulfilling the agreed-upon mission and vision of ISA. Breen currently serves as ISA vice president of strategic initiatives.
"While the board of directors has a fiduciary responsibility to consider all options for the position of ISA President & CEO, the board of directors is extremely confident in Brendan's ability to lead the association effectively through this interim period. Brendan is a talented, demonstrated leader within the ISA team," Ford said.
Breen's transition to his new role will begin effective immediately. Gerber will remain in his current role until his formal departure on Nov. 30, and has agreed to make himself available to the board and the ISA team in an advisory role beyond his formal departure date.
The Executive Committee of the board will lead the effort to select the next president/CEO, with the goal of naming the association's new president and CEO by the week of Jan. 3, 2022.
In a message posted to LinkedIn, Gerber wrote: "As I move on to the next chapter in our lives I would like to say thank you to all my industry friends, board of directors, and my amazing ISA team.
ISA, this industry and channel has been nothing less than amazing to me and my family. What an experience and a vault full of memories!
Rest assured that ISA is in an awseome position to flourish and thrive. With Maria at the helm and the awesome board we have in place, the sky is the limit. I leave proud of what we have all accomplished together."