Posted October 21, 2020
Optimas Solutions opens St. Louis DC
Optimas Solutions has opened a facility in St. Louis to handle the U.S. distribution of a new line of manufacturing consumable products focusing on personal protective equipment (PPE) and maintenance, repair, and operations (MRO).
---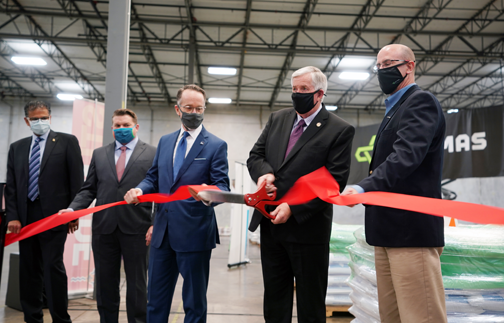 Pictured from left to right are Subash Alias, CEO, Missouri Partnership; Winston Calvert, St. Louis County Chief Strategy Officer; Steve Johnson, President and Chief Executive Officer, Alliance STL; Mike Parson, Governor, State of Missouri; and Paul Przyby, VP, Sales and GM, Optimas.
The company said that adding this line of products and a dedicated 30,400 square foot distribution facility will address urgent customer demands for indirect and consumable items quickly and easily, especially safety products due to COVID-19.
"The goal of this strategy is to be laser focused on those products that are in urgent demand by our customers," said Marc Strandquist, Optimas chief executive officer. "We've listened to and learned that our customers don't necessarily need full-line distribution right now, but instead need Optimas to meet their needs for common items in a dedicated, efficient manner. With this new line and new distribution facility, our goal is to simplify product selection and quickly deliver what our customers need most at the best value possible."
Safety Products will focus on personal protection and sanitation products to protect individuals in the workplace. Face masks, sanitizers, cleaning products, hearing protection, hand protection, and body coverings will be the basis of this offering.
MRO Offerings will focus on materials, equipment and supplies necessary to keep production running smoothly. MRO products such as adhesive, abrasive, tape, and packaging materials along with janitorial supplies and cutting, repair and hand tools will be sourced and readily available to deliver for customer critical needs.
Scott McDaniel, a fastener industry veteran, will oversee the go-to-market approach, which is also designed to help Optimas Solutions expand into new markets.
"I'm excited about the potential for this strategy," McDaniel said. "Our tapered approach enables Optimas to help customers access excellent products, with fast delivery from St. Louis and optimal pricing. The initial focus will be in two major categories, safety products and MRO items, with others to come.