Posted October 21, 2020
U.S. cutting tools consumption declined in August
August 2020 U.S. cutting tool consumption totaled $136.1 million, down 0.2 percent from July's $136.3 million and down 33.5 percent compared with the $204.7 million reported for August 2019.
---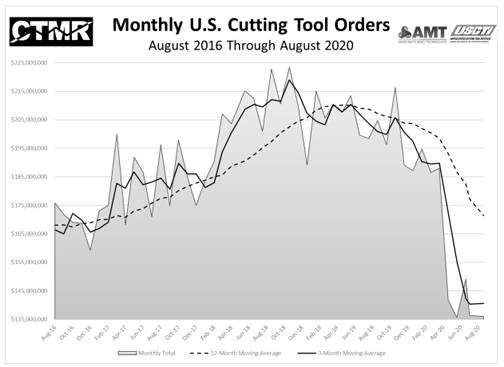 With a year-to-date total of $1.3 billion, 2020 is down 23.4 percent when compared with August 2019, according to the U.S. Cutting Tool Institute (USCTI) and AMT – The Association For Manufacturing Technology.
"Sales of cutting tools declined more than might have been anticipated through the summer months. However, in light of the reports of flattening growth in both manufacturing and the broader economy, these statistics are not entirely surprising," said Bret Tayne, president of USCTI.
"Cutting tool orders continue to remain soft in August 2020 but appear to have found a bottom. Orders of $136M were only -0.2% below July orders of $136.3M but were still -33.5% below August 2019. Year-to-date orders remain weak at down -23.4%. The weakness is a continuation of the order decline that began in the spring of 2019, impacted by inventory liquidation, and exacerbated by the Covid-19 pandemic which virtually shut down the U.S. economy," said Eli Lustgarten, president of ESL Consultants.