Posted October 22, 2020
NAW's Hoplin calls distributors unsung heroes
In a newly released video, Eric Hoplin, the new CEO of the National Association of Wholesaler-Distributors, said the industry is among the unsung heroes of 2020.
---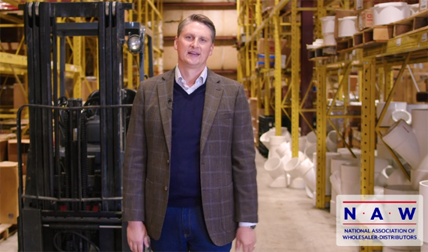 Hoplin obseved that while some sectors of the industry have thrived during the coronavirus pandemic, others having fallen on hard times. Hoplin pledged to help NAW continue to provide services to help its members.
"It's an incredible honor to serve the entire wholesale distribution industry as the new CEO of NAW. I've long admired this industry and am eager to partner with all of you to ensure you have the resources and support you need to help your business succeed in these ever-changing and complex political, cultural, and economic times," he said.
Hoplin was previously the Head of External Relations for Wells Fargo, where he led a team focused on improving the company's reputation and advancing pro-growth policy objectives in concert with third-party organizations across the political spectrum.