Posted October 29, 2020
Pandemic Revenue Index shows 6.8 percent gain
Indian River Consulting Group's (IRCG) weekly Pandemic Revenue Index for the work week of Oct.19-23 indicated a 6.8 percent increase compared with the same week a year ago.
---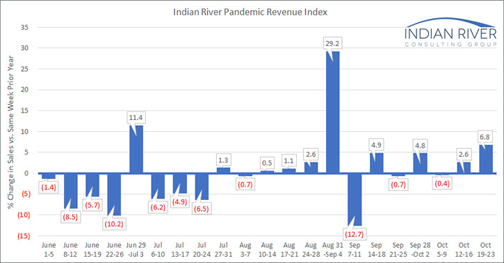 Contributing to the increase was one company reporting growth of 67 percent over the same week prior year. Excluding this outlier, the overall sales change is still positive but at 1.3 percent.
IRCG's distributor Pandemic Revenue Index gives distributors a weekly quantified view into how other distributors in the industry are faring as the global COVID-19 pandemic progresses.
"Half the respondents reported increases ranging from 1 percent to the aforementioned 67 percent. The half with decreases ranged from 1 percent to 22 percent," said Mike Emerson, IRCG Partner.