Posted October 31, 2022
Hallite Seals Americas names warehouse manager
Hallite Seals Americas recently promoted Erica Keeney to warehouse manager, reporting to Gustavo Giometti, senior customer service, and supply chain manager.
---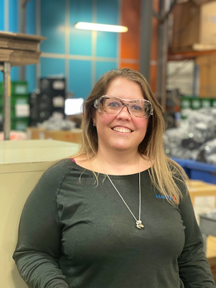 In her new role, Keeney directs and trains her team, oversees shipping and receiving practices and metrics, manages inventory and enterprise resource planning (ERP) accuracy, and handles products, storage, and logistics.
"Erica brings invaluable customer service, purchasing, and operational expertise to the warehouse management role because of the years she's worked for the company across all of its functional requirements," said Giometti. "She's a hard worker, an outstanding example for the team, and committed to leading Hallite down the path of continuous operational improvement."
Keeney began her career at Hallite nine and a half years ago as the machined seals material handler. This experience led her to the role of a machined seals customer service representative and later a materials and pricing agent.
"I am grateful for each stop along my career journey," said Keeney. "I have learned and grown with each new experience, making me better and more knowledgeable for each new role."
Hallite Seals Americas manufacturing facilities focus on producing sealing products used in hydraulic cylinders using high-quality materials. This facility also designs and produces a unique product line of unitized pistons and unitized glands offering a high level of performance in a variety of applications.