Posted November 1, 2018
IDCO member sales up 27 percent
IDCO announced that its year-to-date member incentive growth is 43 percent over 2017 on 27 percent sales growth.
---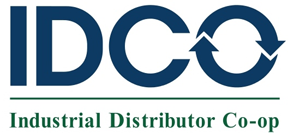 This follows a 48 percent increase in 2017. Greater member commitment to suppliers and supplier investment of time and resources in IDCO members are the key factors contributing to this success, according to a statement from the co-op for independent hose, rubber and sealing distributors.
"We are outpacing market growth for industrial distributors. This is mainly due to our members' continued support of IDCO Endorsed Suppliers," said John O'Donnell, IDCO president. "We also added some best-in-class independent distributors to the co-op this year, like Omni Services, Alaska Rubber Group, Hose and Rubber Supply, Southwest Rubber and Supply Co. Inc., Goodyear Rubber Products Inc., Geib Industries and Houston Hose & Specialty. Combine this with our outstanding supplier offering, and it is easy to see why we continue to grow."
This year marks IDCO's 25th year in business. The co-op has 73 members and 75 suppliers in its North America network.