Posted November 4, 2020
AD Bearings & Power Transmission Division hosts virtual meeting
AD's Bearings & Power Transmission Division hosted its first virtual member-only network meeting Sept. 22, with over 90 member companies represented.
---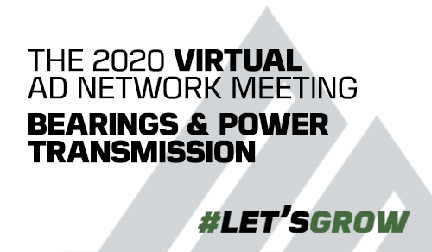 The network meeting is one of seven AD meetings across multiple industries that have shifted to virtual this fall, all designed to enable networking, keep members up to date on group performance, programs and services available from AD, and foster relationship-building.
The call to action for this year's meetings is Let's Grow, symbolic of the challenges the world has faced this year and the countless ways that AD's independent distributor members have innovated and partnered with each other, supplier partners, and AD to thrive in this difficult environment. The AD community has always been passionate about growth, and Let's Grow is representative of the commitment that AD members, suppliers and associates are making to look to the future, build momentum and charge forward.
With the theme as a backdrop, George Graham, president of AD's BPT Division, led members through a business update reporting divisional wins, new initiatives, as well as year-to-date and forecasted financials.
Graham reported BPT members are performing exceptionally well when compared to other public players in the industry. AD continues to negotiate lucrative supplier programs on behalf of AD members, even in a down market, thanks to the size and scale of the collective membership combined with the commitment of AD members to support AD supplier partners.
"Our members remain enthusiastically committed to supporting our supplier partners with above-market-level sales growth, and we are delivering on that promise in a very challenging year for everyone," Graham stated. "Our division is poised to experience overall growth in 2020, which is a fantastic accomplishment. There is agreement among us all that we would have preferred a more normal meeting, in person at some great property where we could all network, but we made the best of the situation with a successful virtual meeting."
Following the business update, Caroline Ernst, AD vice president of eCommerce Solutions, joined Graham to share additional growth opportunities within BPT. Ernst discussed current eCommerce trends in the marketplace, how the COVID-19 pandemic has fast-tracked digital commerce, and how AD is helping its members accelerate into digital through the AD eCommerce Solutions program.
"As customers continue to research and purchase online in ever-increasing numbers, the ability for distributors to offer a robust webstore experience is critical," Ernst stated. "AD eCommerce Solutions leverages AD's scale and community to enable members to achieve their eCommerce objectives. Whether that has provided them with organized, normalized and enhanced product data, provided an eCommerce platform for a superior webstore experience, consulted on strategy, training and implementation, AD eCommerce Solutions enables members to win in an evolving digital world."
To close out the event, AD members met virtually with their network groups of non-competing market leaders from the industry. These sessions are a primary focus during all AD meetings and the shift to virtual provided members with an opportunity to share ideas and develop sales and marketing strategies for the coming year.