Posted November 7, 2022
Dayco invests in Mexico manufacturing plant
Dayco announced a major investment in a new North American manufacturing facility that will produce the company's globally recognized OE-quality belts.
---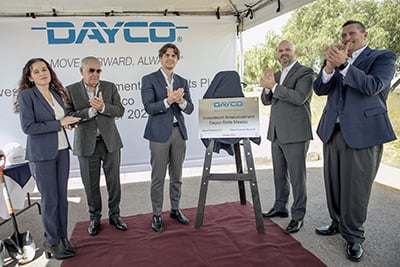 The new plant will be located in San Luis Potosi, Mexico, in a large and well-known industrial park, Parque Tres Nations, which is popular with prominent businesses. Construction will begin in early 2023 and is expected to be complete in early 2024, at which time production will begin for Dayco's aftermarket serpentine belts.
"This is an exciting strategic investment that allows us to expand Dayco's presence in North America and subsequently, the company's overall global footprint," said John Kinnick, president, Dayco Global Belt Operations. "We're excited to share this news with our channel partners here at AAPEX as we will be even better positioned to serve and provide them with quality products at competitive prices as we focus on our mission to move forward, always."
Dayco is a supplier of engine products and drive systems for the automotive, industrial and aftermarket industries.