Posted November 19, 2019
Fernandez wins W.I.S.E. Impact Award
At its 2019 Summit in October, the Industrial Supply Association's (ISA) Women Industrial Supply Executives (W.I.S.E.) recognized Marisol Fernandez, president of the Industrial & Safety Division - U.S. for Affiliated Distributors (AD), with its Impact Award for 2019.
---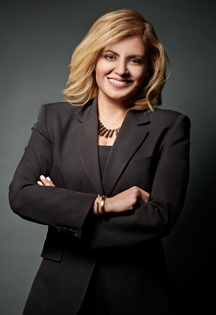 The W.I.S.E. Impact Award honors individuals from ISA member companies for their commitment to advancing the development and influence of women in the industrial channel. The award, which supports the W.I.S.E. vision, mission and objectives, is open to any person, male or female, from an ISA member company who has made a significant contribution to improve the careers of women in the channel.
Fernandez's support of women's leadership in the industrial channel runs deep. As an original member of W.I.S.E., Fernandez prioritized the development of new leaders within W.I.S.E.; initiated long-term goals and objectives to put W.I.S.E. on a new and more sustainable path; and played a critical role in recruiting women for W.I.S.E. membership. She served as a member of the Education and Development Committee in 2016 and assumed the role of Networking Group Chair in 2018.
"Marisol has served as a role model, advocating for women in all parts of her life," said Lori Mata, W.I.S.E. Network Chair and manager, North American Industrial Distribution for Saint-Gobain Abrasives Inc. "We are excited to recognize her passion for supporting women in this channel."
"Throughout my life, I can clearly identify the individuals who selflessly gave of themselves to support me along the way," Fernandez said. "This group is no exception and my personal W.I.S.E. experience has been transformational. I would like to extend my thanks to all the W.I.S.E. leaders, council and committee members for your efforts in accelerating the influence of women in our channel."
As a member of the ISA board of directors executive committee, Fernandez advocated for an increase in the number of woman directors, and she has encouraged board members to recruit their employees to W.I.S.E.
Jack Templin, president, Industrial Business Unit and chief programs officer for AD, said that Fernandez has been a welcome addition at AD. "One of the benefits of being a great place to work is our ability to attract top talent. Marisol has clearly made a name for herself as a respected leader in the industry, and for those of us who are privileged to work closely with her here at AD, she has built a reputation for being a sharp and collaborative leader who exemplifies the AD Way," he said.
AD's CEO and Chairman Bill Weisberg said Fernandez has been an outstanding addition to ISD's leadership team since her arrival in May 2019.
"It's so gratifying to see an exceptional individual recognized for her commitment to developing the future superstars of this industry," Weisberg said. "Marisol consistently lives our fundamentals in all her interactions, whether they be with the ISD-U.S. board, our members and supplier partners, her fellow associates, and in conversations with prospective AD members. On behalf of all our associates, I congratulate Marisol on a richly deserved award."
Before her role with AD, Fernandez was regional vice president for Bunzl, and had responsibilities for Bunzl's safety P&L in the U.S. She has an MBA from Lake Forest Graduate School of Management and holds certifications in Project Management. She is also a Six Sigma Black Belt and served as a member of the U.S. Air Force.