Posted November 22, 2019
IWDC auction benefits Workshop for Warriors
IWDC celebrated its 25th Anniversary with an art auction event that generated more than $30,000 for Workshops for Warriors.
---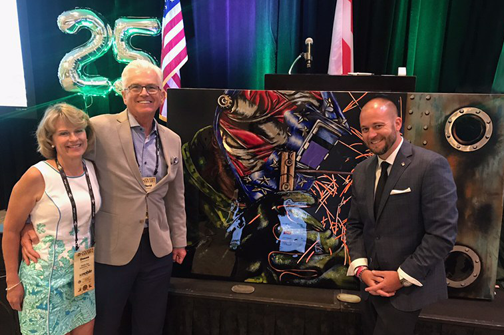 David and Donna Mahoney, IWDC member from Noble Gas Solutions, won "Warrior to Welder" at the IWDC live auction. The rendering was created by veteran and artist, Gavin Goode.
"We wanted to do something special and, through generous vendor partner support, we were able to commission an artist who crafted a one of a kind oil painting on steel titled "Warrior to Welder," said Frank Kasnick, president and CEO. "We held a live auction during the closing dinner that included a silent auction and some games that had everyone on their feet having a blast supporting this great cause."
In addition to fund raising, the cooperative of independent welding distributors updated members on IWDC's strategic initiatives and received feedback on programs during the group's October owners' meeting held at Eau Palm Beach Resort, Manalapan, Florida.
"We would like to thank our members, vendors and employees for their generous donations to this worthy cause," said Erica Janas, IWDC director of marketing. "We take great pride in our affiliation and look forward to supporting future campaigns."