Posted November 23, 2021
Regal Rexnord acquires Arrowhead Systems
Regal Rexnord has acquired Arrowhead Systems, based in Oshkosh, Wisconsin, a provider of automation solutions, including conveyors, palletizers and depalletizers.
---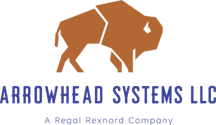 "Strategically, Arrowhead is everything Regal Rexnord looks for in an acquisition. It increases our exposure to attractive, high-growth end applications," said Louis Pinkham, Regal Rexnord CEO. "In addition, its highly engineered products and solutions, including digital capabilities, are differentiated and highly valued by its customers."
Regal Rexnord's ModSort modular transfer and diverter stations can be easily added into new or existing conveyor systems to provide high-precision, 360-degree steering functionality for very lightweight items, such as polybags. ModSort modules, along with Regal Rexnord's offerings of conveyor belts, chains, guides and components — now coupled with Arrowhead's conveying and palletizing sub-systems and its design, fabrication and assembly capabilities — position the company to offer more value-added solutions to its customers, and do so in a broader array of end applications, the company said.