Posted December 10, 2020
Weekly Pandemic Revenue Index climbs by 12.1 percent
Indian River Consulting Group's (IRCG) weekly Pandemic Revenue Index for the work week of Nov. 30-Dec. 4, indicated a 12.1 percent increase compared with the same week a year ago.
---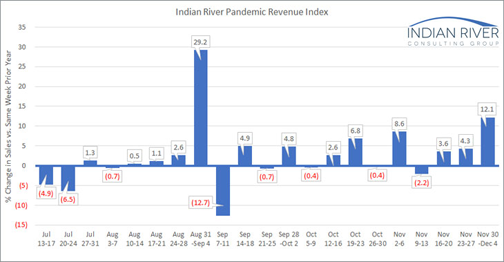 Of the 13 respondents, 10 reported increases.
IRCG's distributor Pandemic Revenue Index gives distributors a weekly quantified view into how other distributors in the industry are faring as the global COVID-19 pandemic progresses.
"The week containing the last day of November produced the largest non-holiday increase the index has experienced. Of the 10 respondents reporting increases, half of them were well above 20 percent. Of the three companies reporting declines, only one was in the double-digits," said Mike Emerson, IRCG partner.