Posted December 14, 2022
The Crosby Group raises $50,000 for Children of Fallen Patriots
The Crosby Group, a manufacturer of rigging, lifting, and material handling hardware and equipment, has concluded its 2022 Rigging for the Troops campaign supporting the Children of Fallen Patriots Foundation. Through the combined support of its loyal channel partners, end users, and employees throughout the U.S, Crosby once again surpassed its original fundraising goal of $25,000 and raised a total of $50,000 for the Fallen Patriots.
---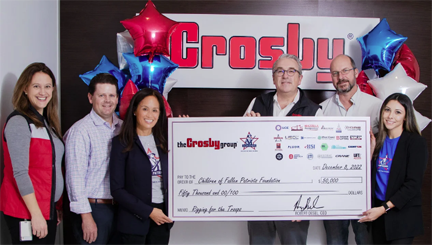 Left to right: Melissa Ruths, vice president, Marketing & Product, The Crosby Group; Brock Hancock, CFO, The Crosby Group; Cynthia Kim, co-founder & co-chief of staff, Fallen Patriots; Robert Desel, CEO, The Crosby Group; Mike Kuzdzal, COO, The Crosby Group; Stephanie Gannon, scholarship administrator and past scholarship recipient, Fallen Patriot
s.
Fallen Patriots provides college scholarships and educational counseling to military children who have lost a parent in the line of duty. After government programs, the average shortfall in college funding is $25,000 for an individual student.
This is the third year Crosby and its partners have come together to support the Fallen Patriots. In total, $125,000 has been raised to-date for this worthy cause.
From September 1 through October 31, The Crosby Group committed to donate $500 for every Crosby and ACCO in-person training event it hosted in the US. In addition, proceeds from the popular User's Guide for Lifting online training course during this time went toward the goal.
Crosby's channel partners and end users also contributed by sponsoring the campaign through direct donations to Fallen Patriots.
This year's sponsors are: Bishop Lifting Products, Inc.; Central States Crane & Hoist; CERTEX USA; Core Lifting Products; Crane Training & Safety Consultants; Dakota Riggers; Fluor Corporation; Fulcrum Lifting; Global Rigging & Synthetics; Hanes Supply, Inc.; Heco Slings; Holloway Houston, Inc.; Industrial Training International; International Union of Operating Engineers; Industrial Scale Company; John Sakach Co.; Mazzella Companies; Metro Wire Rope Corporation; Peak Trading Corporation; The Carpenter Group; US Cargo Control; West Coast Wire Rope & Rigging, Inc.; and media sponsors Crane Hot Line and Lift & Access.
"We sincerely appreciate our channel partners, end users, and employees who, once again, made this year's campaign a tremendous success," said Robert Desel, CEO of The Crosby Group. "We are honored to make this donation to further support the Foundation's important mission and help meet the educational needs of Gold Star children."
Cynthia Kim, co-founder and co-chief of staff of the Children of Fallen Patriots Foundation, said: "Fallen Patriots is truly honored to partner with The Crosby Group. Not every patriot wears the uniform, and it's patriots like Crosby who make our mission possible. Your generosity sends a message to the children left behind, that they are not forgotten, and their fellow Americans honor the service and sacrifice of their parent. Thank you for ensuring these children have the bright future their parents would have wanted for them. You're giving them hope and resilience."
Approximately 25,000 children have lost an active-duty parent in the military over the last 35 years. Of those, 97% of casualties are men, leaving behind single mothers to care for their families, and 60% report having trouble making ends meet. The foundation said that $625 million is needed nationwide to cover the gap between government assistance and the actual cost of a degree.
Since 2002, Fallen Patriots has provided more than $61million in total assistance to more than 2,700 military children with more than 900 graduates.