Posted December 21, 2020
NewAge Industries promotes two
Tubing manufacturer NewAge Industries has promoted Ken Liszewski and Tony Szoka to new positions.
---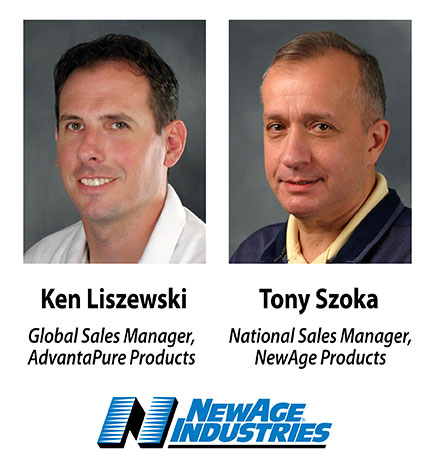 Liszewski is now the global sales manager for NewAge's AdvantaPure high purity products group, and Szoka is the company's national sales manager for NewAge products.
Liszewski has been with NewAge for over 20 years, having started as an order picker in the warehouse. He held various positions within the sales team, most recently key account manager.
NewAge's CEO, Ken Baker, noted that Liszewski "has shown a commitment to excellence in performance and embodies the NewAge basic guiding principles in his everyday work. Ken's developed relationships with customers, and that's something that takes talent and time – building trust, being responsive, offering guidance."
In his new role, Liszewski will be responsible for leading the AdvantaPure sales team, optimizing the group's sales distribution channels, and developing a sales strategy that will meet company goals.
Szoka, a five-year employee, joined NewAge as a sales representative. His natural ability to work with others was quickly recognized and led to the coaching and mentoring of coworkers, which helped the team grow and provide improved customer experiences.
"Tony's background in relationship building and sales management will serve him well as he sets a new direction and market focus for our NewAge products," said Lawrence Morano, NewAge's executive director of sales, marketing and product engineering. "Tony has a clear vision. He understands the various markets and how our different tubing materials and other fluid transfer products fit into them."