Posted December 30, 2020
Weekly Pandemic Revenue Index up by 18.2 percent
Indian River Consulting Group's (IRCG) weekly Pandemic Revenue Index registered its sixth straight week of positive returns.
---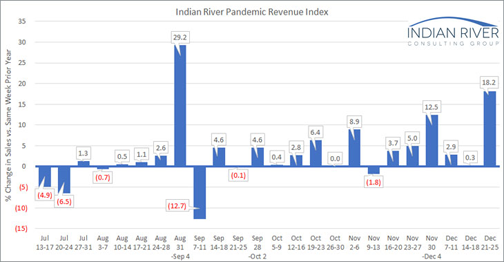 The index for the work week of Dec. 21-25 indicated an 18.2 percent increase compared with the same week a year ago.
IRCG's distributor Pandemic Revenue Index gives distributors a weekly quantified view into how other distributors in the industry are faring as the global COVID-19 pandemic progresses.
"As expected, the week ending on December 25 saw a large increase over the same week in 2019 since Christmas fell on Friday this year compared with Wednesday in 2019. The week ending on January 1 is identical in terms of when New Year's Day falls, so it's likely that the year will end with only two down weeks since Labor Day," said Mike Emerson, IRCG Partner.