Staunchly independent
Engman-Taylor Company values independence more than the lure of merger mania
by Rich Vurva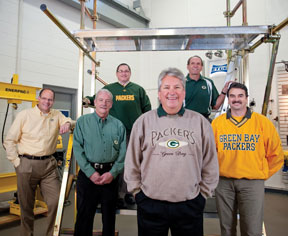 Team ETCO members are as proud of their company as they are of another popular team in Wisconsin, the Green Bay Packers. The team includes (left to right) Mark Sauer, Fred
Johnson, Jim Mueller, Rick Star, Dale Boschke and Bill Collier.
Despite the flurry of acquisition activity in the industrial distribution landscape, Milwaukee area distributor Engman-Taylor Company has elected to remain independent. Like many distributors with a solid reputation and a strong track record, this $70 million company has been approached by numerous suitors interested in acquiring the integration specialist.
Although the lure of cashing out might benefit his family's personal financial situation, company president and CEO Rick Star says the more important consideration is how an acquisition would impact customers and employees. Would joining forces with a larger entity make ETCO a better supplier to customers and a better employer to ETCO team members? Star is convinced that the company can serve both groups better by remaining independent.
"I've sat with enough customers in meetings to know they appreciate having the owner in the meeting and having access to the owner and quick decision-making. Employees appreciate access to ownership as well," Star says. He believes that direct accessibility to ownership would suffer if ETCO was a division of a larger company.
Because ETCO already buys at the maximum discounts offered by its major suppliers, Star says belonging to a larger organization would not provide greater buying power. However, it would bring the risk of an unfamiliar management style. Having worked for larger companies after graduating from college and before joining the family business, Star understands what it takes to survive in a corporate environment.
"I understand the bureaucracy and the red tape and all of those things that go along with it. I just think that this is a better environment, not just for our 'Team ETCO' members, but also for me. At this point in my life, I don't think I would do a very good job of taking direction from someone else," he says. "I have enjoyed working with my Dad, and I would love to see a third generation join the business if they are so inclined. My 15-year-old son, Bradley, volunteered at age 11, and 8-year-old Alex is already good with the white board."
Following an acquisition, the new owner typically looks for ways to lower monthly expenses. Often, local jobs get eliminated by consolidating administrative and IT functions at corporate headquarters.
"One of the most important things we can do as owners is to provide livelihoods for people. I wouldn't be interested in any transaction that would hurt people," Star says.
Observing the merger and acquisition strategies of some companies in the industrial distribution channel, Star also wonders if the process is sometimes driven by who is willing to sell their company rather than by identifying the best markets in which to operate. Unless Star is convinced that an acquisition makes sense, he refuses to spend much time dwelling on "what if" scenarios, preferring instead to focus on what has made his company successful.
Long-term relationships
More than half of the company's business comes from integrated supply accounts, some of which have been in place for decades with major manufacturers that include Harley-Davidson and Mercury Marine. Tools such as a detailed Cost Analysis Questionnaire and Study (CAQS) for gathering and analyzing data, and a proprietary software program, CODEX, for documenting monthly cost savings, help ETCO's Customer Cost Savings Team (CC$T) to focus on improving customer productivity and profitability.
Brian Smith, former director of materials management and logistics at Harley-Davidson, once said, "ETCO is the F-250 of suppliers. Their project list is huge, and they're always working hard to supply cost savings of all sizes."
Sometimes, simple solutions are appreciated most by customers. Like the time ETCO found a more affordable alternative for a customer that used a sprayer to wash down piston rings after chrome plating. At a price of $18 each, the company paid about $5,400 annually for up to 300 sprayers. ETCO located a comparable product that cost less than $6, which generated savings of more than $3,600 a year.
Other solutions are more complex, requiring ETCO's expertise in engineering and manufacturing. For example, when the same customer struggled with throughput issues, one of ETCO's engineers designed a special, double-effective end mill to eliminate the bottleneck operation. The tool provided a much faster way to machine a feature on a piston, and resulted in savings of nearly $121,000 per year.
"We see a lot of opportunities for turnkey packages," explains Dale Boschke, director of technical services. He says that manufacturers that are finding it difficult to locate and hire trained machinists are looking to ETCO for support. "They'll have a new job so they'll come to us to specify, source, order, receive, assemble/shrink fit, balance, preset, label, kit and deliver the tools. We'll act as their engineering and purchasing resource," he says.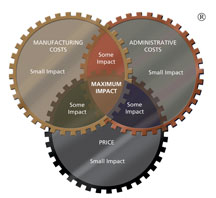 ETCO's trademarked Cost Circles program focuses team members on helping customers reduce costs in three areas: administrative, manufacturing and price. The administrative circle includes the cost to source, quote, order, receive and inventory products. The manufacturing circle concerns activities that improve plant floor productivity, such as improving cycle time, throughput and reducing scrap. The final circle impacts the actual purchase price of products ETCO sells. The company can make the biggest impact when its activities impact all three areas.
The manufacturing resurgence that followed the 2009 economic meltdown has focused manufacturers on making productivity improvements without adding labor costs. Many customers have relied on ETCO to uncover improvement opportunities.
"Customers lean on us to be a technical extension for them on the floor. They want us to help them solve existing problems, to bring new technology to the shop floor and to work with their people to improve productivity and drive down their costs," says Bill Collier, a field sales manager.
Tackling tough jobs
Collier is one of several employees who previously worked in manufacturing facilities, where they gained hands-on experience in lean manufacturing, machining and assembly, plant floor and inventory management best practices. Where other integrators prefer to specialize only in production environments, ETCO's willingness to tackle harder-to-handle maintenance tool cribs has resulted in increased business. "These are areas that no one wants to touch," says Mark Sauer, vice president of sales. "In a manufacturing part of a facility, you're dealing with tooling that is perishable and much more predictable. Maintenance is much less predictable and more difficult to get your arms around. Striking the balance between availability and ROI is a challenge."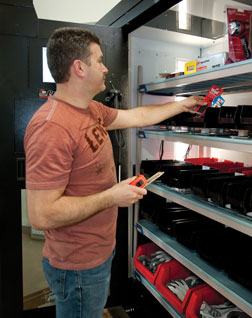 ETCO has installed a variety of inventory
management systems at customer locations, from bar code scanning stations to automated vending systems and RFID inventory tracking portals.
ETCO recently earned business from P&H Mining, a global manufacturer of surface mining equipment. The contract required ETCO to manage the maintenance crib for a massive P&H facility on the west side of Milwaukee. The company was seeking tighter controls over the mission-critical parts and tools used by maintenance people who operate 24/7 at the manufacturing plant that makes excavating, blasting, loading, hauling, material handling, and crushing machinery. Like many maintenance departments, the facility is staffed by millwrights, electricians and other trades people with years of experience, but much of their knowledge about the parts and tools used throughout the plant was not cataloged. One solution included installing a CribMaster Accu-Port radio frequency identification (RFID) dispensing system. This "passive technology" requires virtually no involvement from employees. As they enter and exit the Accu-Port, the system reads the employee's RFID tag and similar IDs on parts and tools stored inside the tool crib. The database automatically tracks everything that comes in and out, triggering replenishment orders based on pre-established levels.
"Anytime you ask somebody to stop and do something, like scan a bar code, you're always going to have a certain compliance level," explains Jim Mueller, vice president of operations. "With this system, it knows who I am when I enter, it knows who I am when I exit, it knows what I have in my hands. Based on ordering controls we have set up in the software, it knows whether it needs to reorder that item."
As a result of ETCO's success in managing the maintenance cribs, P&H awarded ETCO a contract for managing its production cutting tools inventory. It's now one of ETCO's top five accounts.
New market opportunities
ETCO recently expanded into a new market by creating a solution to a problem experienced by long-time customer Harley-Davidson. The motorcycle manufacturer needed a quicker way to get repaired components to dealers. Previously, if a fender or a fuel tank on a bike was scratched during delivery, for example, the dealer removed the component, shipped it to the factory for repair or replacement, and re-installed it when the job was done.
To lower repair costs and speed service to customers, ETCO devised a five-piece kit that it offers for sale direct to Harley-Davidson's 1,400 authorized dealers worldwide. The kits include power tools, abrasive sanding discs, buffing pads, polish and wiping cloths. A video provides step-by-step instructions.
"The complete process is Harley-Davidson factory-authorized. Using this kit, the dealer can perform a variety of repairs on the spot in a matter of minutes," Sauer says.
The new market opportunity comes at a time when manufacturing employment in Wisconsin is rebounding slightly after shrinking for a decade. While most of the company's business is still Wisconsin based, it has seen growth in other geographies, and is open to expansion opportunities in other regions of the country. To make that happen, the independent distributor has considered a growth-through-acquisition strategy of its own.
"The possibility of us acquiring someone is much greater than us being acquired," Star concludes.
This article originally appeared in the Jan./Feb. 2012 issue of Industrial Supply magazine. Copyright 2012, Direct Business Media.
COMMENTS: 1
Staunchly Independent
Posted from: Jim Lenahan, 1/31/12 at 4:33 PM CST
I have done and continue to do business with Engman-Taylor and find tremendous value in dealing with this company. They stand behind what they say and work with companies like mine every step of the way to make sure we are productive and efficient.
---