Keep it moving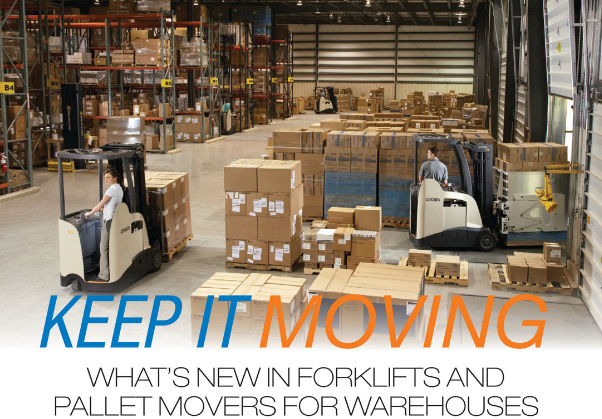 by Rich Vurva
Forklift connectivity is the latest trend in material handling equipment designed to make distribution warehouses more efficient. Using wireless technology, forklifts can now coach operators as they move through the warehouse in search of products to pick. Even if you're not interested in paying for the most high-tech options available, material handling companies have multiple options to help your company improve warehouse productivity.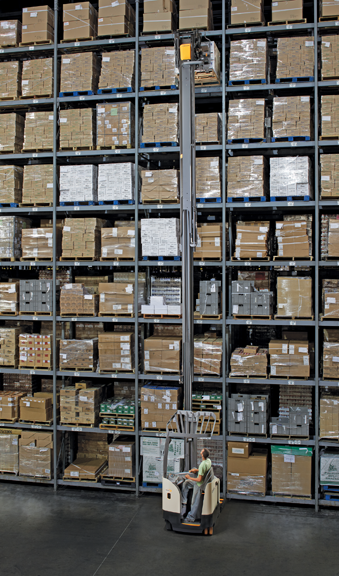 Crown RM/RMD Series narrow-aisle reach truck offers unmatched, all-around visibility – at ground level, eye level, height and in all directions around the operator.
Crown Equipment Corporation
"Our customers continue to look for material handling solutions that can help them solve growing concerns regarding rising operations (including employment) costs as well as mitigating business disruptions appearing in the form of new competitors, changing customer demands, expanding product lines and geographies to serve, among others," says Andy Smith, director, marketing product management, Crown Equipment Corporation.
He says Crown Equipment collaborates closely with customers as a material handling consultant to anticipate industry trends and help them respond accordingly, either through new technology, best practices or process enhancements.
For instance, Crown envisions a connected warehouse in which the forklift becomes not only a roving sensor that reaches parts of the warehouse no other system is
reaching, but is also a hub that collects data from various other devices, acts on this data, and consolidates and analyzes it for other systems. Forklift connectivity will
provide the visibility to manage fleets for greater safety and productivity and is a key building block of the connected warehouse of the future.
"We're already doing some of that through Crown's InfoLink wireless fleet and operator management system. Companies are using this technology to monitor and
manage the efficient use of their forklift fleet and total operations by studying summarized data delivered to executives and managers through dashboards that highlight opportunities and help avoid wasted time guessing at improvements," he says.
As the forklift becomes more connected, an area of growth is in active, real-time operator coaching. Current systems focus primarily on monitoring operator behavior as exhibited through the forklift, but forklift fleet management systems create the foundation for active operator coaching that assists operators in planning routes, including knowing the location of other forklifts to minimize congestion and reduce the chance of impacts.
Another area of opportunity is in data integration. With enterprise resource planning, warehouse management systems and forklift fleet management, the systems are in place to collect and analyze data about product movement across the supply chain. As organizations begin to integrate these systems, forklift fleet management will prove to be a vital link in tracking product movement.
Users of the Crown TSP Series narrow-aisle turret stockpicker benefit from greater flexibility throughout their warehouse by being able to place most loads at any height and/or at any open slot, all while traveling in a tight aisle with less than six inches of clearance. In many applications, going from eight levels to 11 levels with the Crown TSP Series equals nearly 31 percent additional storage capacity. This translates to one-third more usable warehouse space. The Crown TSP 7000 turret truck can reach a total of 675 inches, or six stories, and deliver most loads to full height. The Crown TSP 6500 can reach a total of 531 inches.
For many forklift operators, the forklift is their office. Outside of personal breaks and maintenance stops, they spend the majority of their day on a truck.
"At Crown, we give significant attention to how operators interact with that equipment, as it is important not only for ergonomics but also for safety," says Smith.
Safety takes a lead role when forklifts are being utilized in warehouse and distribution center environments. A full pallet load is heavy, and safety procedures should be taken, especially when it is being maneuvered at high heights.
Crown, through its network of regional training centers, company-owned branches and independent dealers, offers Demonstrated Performance (DP) Training programs designed to focus on how operators interact with the equipment and help customers promote forklift safety. Classes are available for forklift operators, trainers, supervisors, pedestrians and service technicians.
Some examples of Crown's focus on ergonomics, driver comfort and safety include:
A fully adjustable MoveControl Seat on the Crown TSP 7000 Series orients the operator to efficiently handle the load at height. Integrated, intuitive controls built into the armrests allow pinpoint control and the ability to blend multiple functions simultaneously.
The FlexRide platform suspension system on the Crown RC Series provides an adjustable, suspended floorboard and shock-absorbing padding, helping to keep operators comfortable and confident in a stand-up design. The floorboard pedals/sensors independently position the operator's feet within the operator compartment during operation. Additional safety is provided by the Entry Bar safety switch at the compartment opening, which slows the truck to a stop and sounds an alarm if the operator attempts to drive the truck with part of his or her foot resting on the ledge.
Crown's stand-up counterbalance and straddle lift trucks have been designed with the operator positioned in a side stance. This helps place the operator in the best comfortable position to keep a clear view of the direction of travel and to avoid colliding with fixed objects, other moving vehicles and pedestrians.
As always, investments should align with desired business outcomes. A collaborative and consultative relationship with the forklift manufacturer is important to customize the right solution for the warehouse and the application.
For instance, for those medium to small facilities where new equipment might be cost prohibitive, Crown's Encore line of remanufactured electric lift trucks or refurbished internal combustion forklifts might be a good strategic fit.
The important thing customers should remember is that much of the technologies being introduced today are scalable to fit the needs of companies with differing sizes and business goals. This is true for automation as well as big data technology such as forklift fleet management systems.
At the end of the day, companies need to choose which option they deem the best fit for their organization, forklift fleet and business goals. As companies continue to plan their future supply chains, it is critical for them to engage forward-thinking forklift manufacturers early in the process to not only maximize the technology benefits but also insure they have forklifts and technology that are a good match with the application, facility and company's supply chain strategy.
Managing the supply chain and moving products is only becoming more complex because of the increase in SKUs and increasing consumer expectations for availability and variety. At the same time, new technologies are disrupting warehouses globally at a faster pace than we've ever seen before.
"As a result, our product enhancements are focused on enabling our customers to be more responsive to the changing interests and expectations of the consumer while helping them manage facility costs and mitigate business disruptions. By enhancing the experience between operators and their forklifts, forklifts and their environment, and managers with their employees and operations, we are enabling higher productivity, safer operations, increased visibility and more effective labor and operations management," Smith concludes.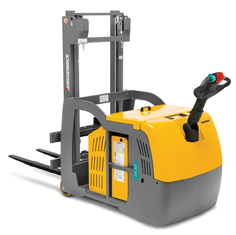 MCFA's EJG 212-216 series of counterbalanced walkie stackers is used for cantilever-type storage racking, sideways lifting of pallets or special load sizes where support arm walkie stackers cannot operate.
Mitsubishi Caterpillar Forklift America
Like most industries, the impact of increased SKUs has put a burden on facilities, which may include:
Having sufficient space for storage (whether bulk storage or within a racking system)
Proper slotting of SKUs (fast versus slower movers) for greater throughput
Having the right lift trucks for safe and productive access to pick locations within the racking like order pickers
There is also a movement toward more automation, especially AS/RS systems, where buildings are constructed taller (100-plus feet). This allows for increased cubic capacity, higher elevations and lessening the cost per cube in building this expensive type of warehouse space.
"We listen to the 'voice of the customer' as to what their needs and challenges are, such as storage, productivity, safety and cost reductions. Then we initiate an application analysis of their facilities and provide alternative solutions to meet those needs with a focus on newer technology, like semi-automation, or full automation," explains Perry Ardito, general manager, Jungheinrich Warehouse Product Group, Mitsubishi Caterpillar Forklift America Inc.
There are a wide-range of solutions and options when it comes to material-handling equipment and services. The type of equipment and the way it is used can all impact the company's productivity, efficiency and even impact cost.
"I would encourage customers to leverage the expertise of the manufacturers and dealers to help them assess the equipment needs for their specific application. Since we are engaged across multiple industries, we see many different solutions that may also migrate across to their specific needs, often things they may not be aware of," Ardito says.
MCFA offers a wide variety of narrow-aisle products catered to a variety of warehouse applications. Jungheinrich order pickers and reach trucks, with a small footprint and high lift heights allow customers to stack and retrieve product from higher points in the warehouse. The Jungheinrich man-up turret trucks allow for high-density storage, working in aisles as narrow as 66 inches, while lifting to heights of more than 700 inches. There is also increases in productivity as these aisle-dedicated units will move more pallets per hour than most full pallet handling alternatives. Focus on tight turning radius, footprint and ease of navigation are important in these applications.
"Customer feedback and field testing is an important part of our design process. Depending on the type of applications, in many instances, the majority of the operators' work day is spent inside the lift truck or warehouse product. Because of this, we place emphasis on designing the operator area and space for comfort – roominess, floorboard space, floor padding and seat comfort/width are all important, depending on the type of product used," Ardito says.
Quiet moving equipment is also important to minimize the impact of noise around the operator during use.
There are various ways that customers can impact their costs when it comes to lift truck and warehouse products. "We encourage customers to evaluate the equipment in terms of its overall cost – while price is a factor, an energy-efficient design can provide lower costs over time," he says.
Many Jungheinrich warehouse products offer a guaranteed runtime of two shifts on one battery charge. This translates into real savings for customers in terms of productivity, their fleet size and even capital costs, like battery chargers. Depending on the application, customers can save in the tens of thousands of dollars by using an efficient product that also may reduce fleet size and labor.
The future of the forklift industry is trending toward automation – because the most significant way to reduce cost is to reduce fleet size and labor.
There are two levels of automation – high-density storage and enhanced productivity with AS/RS systems. The other is more commonly used for horizontal transportation of products known as automated guided vehicles (AGVs).
Since labor makes up 60 percent to 70 percent of overall cost over the life of a forklift, automation doesn't require labor, so the payback is significant.
Automation allows facilities to operate 24/7 while maximizing storage density and productivity. It's an expensive alternative and sometimes restricts flexibility if a customer's application or products change. Warehouse structures are sometimes difficult to modify due to the building structure supporting the automated system.
"We offer turret trucks and high-level order pickers that feature our semi-automated technology known as Warehouse Navigation. Warehouse Navigation, using RFID technology, helps increase productivity by up to 25 percent by improving order picking accuracy and reducing costs. Transponders embedded in the floor precisely identify aisle locations and distances. Armed with this information, the lift truck takes the most efficient and productive path possible," Ardito says.
Jungheinrich has a history of offering full automation in many of its products, including order pickers, turret trucks and center control riders across Europe and will be bringing some of this technology to the North America market in the future.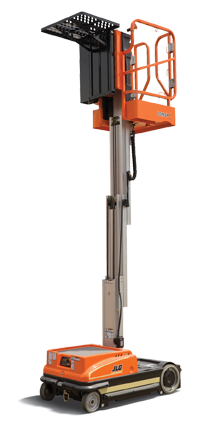 The JLG 10MSP gives users high produtivity with a 10 foot platform height and up to 850 pounds capacity.
JLG Industries
JLG recently launched the 10MSP mobile stock picker, which features an increase in the maximum stowed drive speed from 3.5 to 5 miles per hour and new simultaneous drive and lift capabilities. As a result, the 10MSP enables operators to navigate facilities quickly, driving greater efficiency over the course of the work day. The 10MSP has the ability to work in environments with ambient air temperatures ranging from 0F (-18C) to 104F (40C), making it an ideal choice for use in cold storage, as well as warmer weather environments.
"The simultaneous lift and drive feature requires both hands to be on the controls to create greater operator efficiency, and allows for closer positioning to work areas, which should reduce risk and operator strain, while improving productivity," says Aaron Haynes, product marketing manager for vertical and low-level access products at JLG Industries.
The 10MSP further enhances productivity through its higher platform height (10 feet) and up to 850 pounds of total vehicle capacity, allowing users to move more material in fewer trips. Uptime is increased thanks to standard maintenance-free 210 amp-hour AGM batteries and a lubrication-free mast and mast guide system.
Other options, like an electrically powered material tray, object sensing pad, remote manual descent, aisle guide rollers, rug and bicycle carriers, scanner pocket and cargo strap, make the new 10MSP ideal in a variety of industrial environments.
"JLG recognizes that ergonomics plays a huge role in driving customer preference toward one piece of equipment versus another. Options like a rubber floor mat were added to provide relief to an operator's back and feet during long shifts. Facility managers are also realizing that a comfortable operator is a more productive operator, so small investments in the right product can result in substantial returns. Self-closing saloon gates provide an enhanced sense of security versus some traditional forms of access," Haynes says.
JLG offers a range of stock pickers including manually-propelled models that are more affordable for companies with limited budgets. These units also provide high value to facilities as they enhance the efficiency with which operators are able to accomplish their tasks, which can include everything from stock picking and placing to
facility maintenance.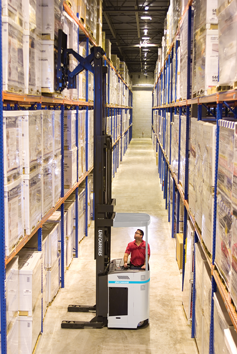 The SCX from UniCarriers is loaded with ergonomic features and is ideal for freezers, coolers, pallet transfer and dock operations.
UniCarriers Americas Corporation
Up and down narrow warehouse aisles, in and out of trailers, the Platinum SCX Series from UniCarriers combines maneuverability with exceptional performance in a truck that's powerful and reliable. Specifically designed for applications that require operators to frequently get on and off of the truck, the SCX is loaded with ergonomic features that maximize operator comfort and is ideal for a wide variety of applications, including freezers, coolers, pallet transfer and dock operations. It's rated at 3,000 to 4,000 pounds.
Superior maneuverability, maximum operator comfort, extraordinary durability are designed into the RPX to excel in all environments — from coolers and freezers down to -20F (-28.9C) to dry ambient environments. And, it's built to deliver maximum uptime and the low cost of ownership of a UniCarriers forklift.
The SPX Center Control pallet truck from UniCarriers offers exceptional operator comfort and control, a capacity of up to 8,000 pounds, longer run times from every battery charge and ease of maintenance and unmatched reliability that comes standard on UniCarriers forklifts.
This article originally appeared in the Jan./Feb. 2018 issue of Industrial Supply magazine. Copyright 2018, Direct Business Media.
COMMENTS: 0
---